Recipe Type:
All Seafood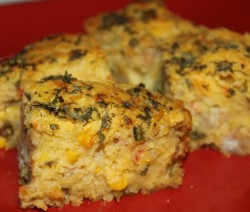 This dish is really a meal in itself! Ingredients1 pound crawfish tails 1 pound grated cheese 3 seeded and chopped jalapeno peppers 1 large chopped onion 1 large can cream style can 1 stick butter (8 tbsp) 1 tbsp vegetable oil 3 eggs 1 tsp Creole Seasonings 1 tsp baking ...
Read more WBRZ of Baton Rouge, LA has a spotlight segment that celebrates a "Chef of the Month". The Chef featured was the chef from Juban's Creole restaurant. This recipe is timely as mirliton are in season at his time and relatively inexpensive. Ingredients6 small mirlitons 1/2 pound ground pork 1 cup ...
Read more Redfish is a favored fish of the Cajun fisherman. Ingredients8 large redfish fillets 2 medium fresh tomatoes 1 small bottle (16 oz) Italian Dressing 1 stick butter 2 tsp Kosher salt or more to taste 2 tsp black pepper 1/4 cup chopped onion tops 3 cloves garlic minced 2 medium ...
Read more A mouthwatering gumbo deep from the heart of Acadiana swamp country. Seafood gumbo cooking at it's finest. Lump bayou crab meat and bayou hot shrimp with the fixins of Cajun vegetables and the secret of Brookie's bayou juice. Ingredients72 ounces shucked jumbo blue crab meat 6 pounds peeled & de-veined ...
Read more This recipe is a perfect use for fake crab meat. Ingredients1 package imitation crab meat 1 package crawfish tails 1 package or 2 of shredded cheese 1 can cream of mushroom soup 2 large eggsDirectionsStep 1Break up the crab meat in a large bowl. Step 2 Sauté the crawfish tails ...
Read more This is my boyfriend's favorite – he's a Cajun, born and raised in Broussard, La. Ingredients2 pounds medium shrimp 1 pint heavy whipping cream 1 pint half & half 2 sticks butter 2 cans chicken broth 2 tbsp Tony's Cajun seasoning 2 drops red food coloring salt & pepper to ...
Read more This is a seafood casserole with cheese in it. My family loves it and asks me to make it all the time. Ingredients1 onion chopped 1 bell pepper chopped 1 stalk celery green onion scallions chopped 1 pound crab meat 1 pound shrimp 1 pound crawfish 2 cups cooked rice ...
Read more Cooked these for the first time yesterday, but it certainly won't be the last! I would start with a good sprinkling of both seasonings, maybe a tablespoon for each pound of shrimp. Got less than a pound, then use less than a tablespoon. IngredientsLarge Shrimp de-headed, but with shells on ...
Read more