Recipe Type:
All Seafood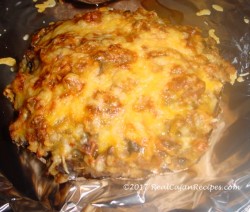 Ms Bert (as she is known by her friends) was lucky enough to be coached by some of the best cooks in the Kaplan area. Her Dad, Wilton, has his own restaurant, her Aunt Carrie had a catering business and her grandma Mire had a lot of hungry mouths to ...
Read more So deliciously rich and satisfying – just like Momma use to make. Ingredients4 sticks butter 3 cups chopped corn 1 cup chopped bell pepper 1 cup chopped celery 3 cups chicken broth 3 cans corn or 6 ears fresh corn 2 large cans evaporated milk 2 pounds crab meat 2 ...
Read more A delicious cream sauce of crawfish, crabmeat, or shrimp; suitable for virtually any type fish. Ingredients1 small sweet onion, chopped 1 cup green onion, chopped 3 tbsp minced garlic 3 good shakes of Worcestershire sauce 1 lemon, quartered 3 tbsp margarine Cajun seasoning/spices to taste 8 ounces heavy whipping cream ...
Read more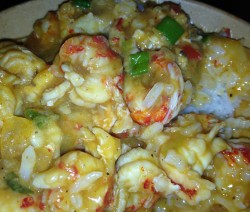 An easy Etoufee and some of the best you'll ever eat. Ingredients2 pounds cooked shrimp or crawfish tails 1 bell pepper, chopped 1 stick butter 2 cups water 1/2 cup green onion tops or scallions, chopped 1 tsp minced garlic 1 jalapeno pepper, finely chopped 1 medium onion, chopped 1 ...
Read more Le riz de maïs de crevette. C'est se bon!! Quick and easy and taste like Grandma made it! Ingredients2 sticks butter 1 medium onion 1 small red onion chopped 1 small green onion chopped 1 pound peeled shrimp 1 can cream of mushroom soup 1 can cream of cheddar cheese ...
Read more Merliton is also known as chayote, custard marrow, christophene, chouchoute and mango squash. For all these exotic names, this is simply a type of squash family, made particularly yummy in this recipe. Ingredients8 -10 merlitons 3 tsp to 4 butter or margarine 1 onion, chopped 1 bell pepper, chopped 2 ...
Read more This recipe is a great and flavorful way to serve tuna fish and it makes use of items you might already have in your pantry. Ingredients1/4 cup shortening 1/4 cup flour 3/4 tsp dry mustard Salt and pepper to taste 2 cups milk 1 tbsp finely minced onion 1 tbsp ...
Read more A sweet and spicy sauce that goes well with shrimp. As with most of our seafood recipes, crawfish may be substituted for shrimp. Ingredients1 large onion, chopped 1 bell pepper, chopped 4 pounds cleaned shrimp or may substitute crawfish. 2 (6 oz) cans tomato sauce 6 tbsp Tiger Sauce 4 ...
Read more