French Fried Shrimp
2012-11-11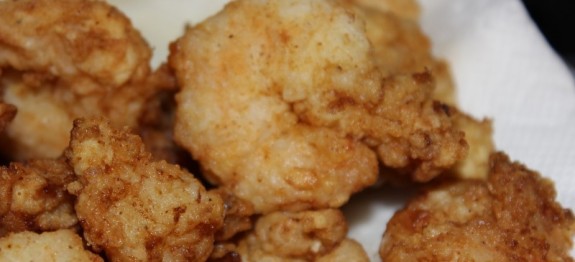 Yield :

6

Servings :

6

Prep Time :

20m

Cook Time :

6m

Ready In :

26m
Ingredients
1 cup flour
1 tsp baking powder
1/2 tsp salt
1 egg
2/3 cup milk
1 tbsp oil
1 1/2 pound shrimp, shelled and deveined
1/2 tsp red pepper
oil for frying
Directions
Step 1
Combine flour, baking powder and salt. Mix together egg, milk and tablespoon corn oil; add to flour mixture. Stir until smooth.
Step 2
Dip shrimp into batter; drain well. Pour corn oil into heavy, sturdy flat bottom 3 quart saucepan, filling utensil no more than one third full. Heat the oil over medium heat to 375°.
Step 3
Carefully add shrimp, a few at a time. Fry 2 to 3 minutes or until golden brown.