Recipe Type:
Turkey Have you ever heard of the dish called gumbo "vert' vah? If you have not, this is a dish with spinach cooked with ground meat or ground turkey. My kids love it and request it alot. Some people can't get over how they ask for it. My grandmother used it ...
Read more Most season a turkey only on the outside of the skin. The trick for better flavor is to season the turkey breast underneath the skin. This method imparts the flavor throughout the breast meat. Ingredients1 turkey breast 6 to 7 pounds 2 hatch peppers or 1/2 bell pepper 1 jalapeno ...
Read more My husband and I love turkey meat. Our supermarket has ground turkey at such bargain prices I decided to make my stuffed bell peppers with it and then ended up using products in our pantry to complete the ingredients. This is an original recipe and is simply delightful. Ingredients1 1/2 ...
Read more With the big rage for frying turkeys, this recipe fits the bill to stuff (inject) your holiday turkeys or any meat that you can deep fat fry or bake. Ingredients1/2 small bottle of liquid crab boil 1/2 large bottle of lemon juice 10 shakes of Tabasco Sauce 2 tbsp onion ...
Read more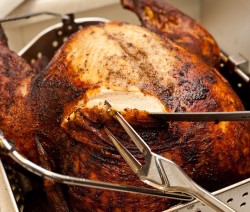 One of my favorite cooking ideas is to deep fat fry our turkey for the holidays or New Year's parties. My wife loves it when I cook; gives her time to do the other baking and cooking while I prepare the main dish. Ingredients12-15 lbs turkey 1 1/2 cups Italian ...
Read more A great dinner addition (even for those who don't love Broccoli). Ingredients1 deep dish pie shell 3 ounces grated Mozzarella cheese 3 ounces sliced Mozzarella cheese 1 lb ground beef chuck or turkey OR shrimp and/or crab meat 1 (4 oz) can of mushrooms 4 ounces soft cream cheese 1 ...
Read more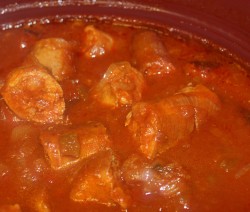 An old time classic. Simple but filling. Ingredients1 package fresh sausage - turkey, chicken or other 2 tbsp vegetable oil 1 cup water 1 onion, chopped 1 bell pepper, chopped (optional) 1/2 cup ketchup or tomato sauceDirectionsStep 1In a heavy duty skillet or cast iron pot, heat the oil. Add ...
Read more Ingredients Ingredients1 chicken or turkey carcass 2 carrots, sliced into coins 1/2 small onion, chopped 1 stalk of celery with leaves 1 tbsp Wyler's Chicken Granuels 1/2 cup of your favorite dry pasta Salt and pepper to taste Garlic powder to taste 1/4 cup parsley, chopped 1 cup leftover (cooked) ...
Read more