Recipes With Course:
Appetizers Swedish meatballs are a popular dish at parties and weddings. These were made by me and served at my wedding. IngredientsMeatballs 4 lbs ground beef 2 lbs ground pork 6 slices of stale bread soaked in milk 3 eggs, beaten Garlic salt to taste Salt and black pepper to taste ...
Read more Ingredients1 lb chicken livers, halved 3 tbsp flour 1/2 tsp salt 1/4 tsp pepper 1/4 cup margarine 1/2 tsp Worcestershire sauce 1 onion, chopped fine 1 celery stalk, chopped fine 1 clove garlic, chopped fine 2 jalapenos, sliced thin (optional) 3/4 cup beef brothDirectionsStep 1Coat livers in mixture of flour, ...
Read more This is how I made butter years ago. Ingredients4 quarts fresh milkDirectionsStep 1Remove cream from the 4 quarts of fresh milk and put in a 1 or 2-quart jar. Take the jar and begin hitting it on your knee, keep the process up until the butter has separated from the ...
Read more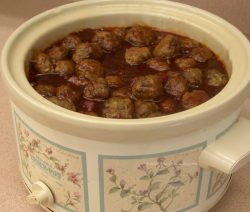 These are great for weddings, parties, family gatherings and SUPERBOWL! They also make great meatball sandwiches. A wedding favorite food IngredientsMeatballs 1 1/2 lbs ground beef 1/2 cup onion finely chopped 1/2 cup crushed cornflake cereal 1/2 tsp salt 1/4 tsp garlic powder 1/8 tsp black pepper 2 eggs, slightly ...
Read more Ingredients4 cups pecans 4 cups sugar 1 cup water 1 pinch saltDirectionsStep 1Put water, sugar, and salt in a heavy pot. Step 2 Add pecans as soon as it comes to a boil. Cook over high heat, stirring occasionally. Step 3 When you can see the bottom of the pot ...
Read more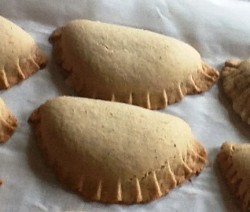 A small pastry with a usually sweet filling = the tart can be made open or closed. The tart can be filled with fig preserves, blackberry filling, pineapple, sweet potato, bouille..if you like it ..fill it… Ingredients1 cup butter-flavored Crisco 2 cups sugar 4 eggs 1 tsp vanilla 2 tbsp milk 4 1/2 cups all-purpose ...
Read more A special treat in Acadiana is crisp, sugary and light oreilles de cochon. Translated this term means "Pigs Ear," to describe the shape. Ingredients1 cup flour 1/4 tsp salt 1 (12 oz) can syrup - cane, corn or sugar Shortening for deep fryingDirectionsStep 1In large glass bowl, sift flour and ...
Read more