Recipes With Course:
Appetizers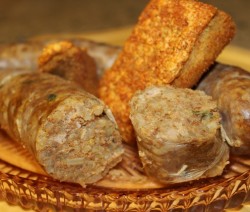 This is the best classic boudin out there. Boudin is also spelled "boudoin." Both are proper spellings of the same classic Cajun dish.
Read more Swedish meatballs are a popular dish at parties and weddings. These were made by me and served at my wedding.
Read more This is how I made butter years ago.
Read more These are great for parties, family gatherings and SUPERBOWL! They also make great meatball sandwiches.
Read more A special treat in Acadiana is crisp, sugary and light oreilles de cochon. Translated this term means "Pigs Ear," to describe the shape.
Read more