Recipes With Course:
Appetizers A Party Dip – great for family gatherings or weddings. Ingredients1 cup chopped onions 1/2 cup chopped celery 1/2 cup chopped bell pepper 2/3 cup chopped green onion tops 2/3 cup parsley 1 (4 oz) jar pimentos 2 tsp butter or margarine 2 to 3 lbs crawfish or shrimp 2 ...
Read more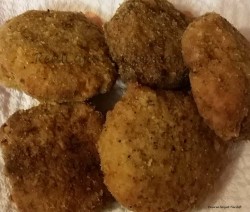 Garfish Patties or Choupique Balls Ingredients1 onion, chopped 1 bell pepper, chopped 3-4 cloves garlic, chopped 3 lbs Garfish meat Salt and pepper to taste 1 packet of fish fry or a mixture of 1/3 cup flour and 1/3 cup yellow cornmeal seasoned with 1/2 teasppon each black pepper, salt, ...
Read more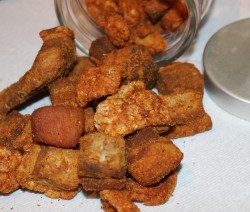 A great tasting snack especially with boudin (boudoin) or cush cush. IngredientsPork meat with fat attached Oil for frying Salt and pepper (red and black) to tasteDirectionsStep 1Method 1 - Cut pork into 2-inch squares. You should cut for skin, fat, and meat on each square. Step 2Place the pork ...
Read more Ingredients Ingredients1 lb shrimp 1 (4 oz) jar of artichoke hearts, drained and chopped 4 ounces mushrooms, chopped 1 onion, chopped very fine 1 bottle Catalina French Dressing Salt and pepper to taste Garlic powder to taste Dash of Worcestershire sauceDirectionsStep 1Peel, clean and boil shrimp. Salt shrimp to your ...
Read more Can also be made into egg rolls Ingredients1 lb crawfish, peeled 1 stick butter 1 large onion, chopped 1 medium bell pepper 1/2 cup celery, chopped 1/2 cup picante sauce 1/2 cup minced garlic 1 (10 oz) can mushroom soup 3 cups cooked rice 1/2 cup onion tops or chives ...
Read more A favorite cracker dip found at many Cajun weddings and parties. Ingredients2 ounces package of cream cheese 2 cups shrimp, boiled and chopped small 1/4 cup each: bell pepper, onion, dill pickle, and celery 1 cup mayonnaise Dash of lemon juice Garlic powder, salt and pepper to tasteDirectionsStep 1Mix cream ...
Read more An appetizer must for every family get-together! Ingredients2 (10 oz) cans Rotel Brand Diced Tomatoes Bag of tortilla chips 1 lb Velveeta CheeseDirectionsStep 1Cut the block of Velveeta Cheese into squares. Open both cans of Rotel, draining only one. Step 2 Place the Velveeta squares into a microwave safe dish ...
Read more Ingredients1 cup celery, chopped fine 1 cup chopped bell pepper 1 cup onion, chopped fine 1 (4 oz) jar chopped pimento, drained 3/4 cup salad dressing 1 1/2 tbsp mustard 1/4 cup pickle relish 3 to 4 boiled eggs, chopped 2 lbs cooked shrimp or crawfish, cut in halvesDirectionsStep 1Mix ...
Read more