Recipes With Course:
Appetizers Salad or Appetizer – nice choice Ingredients2 1/2 pounds cooked shrimp1/4 cup parsley 1/4 cup shallots 1/4 cup tarragon vinegar 1/4 cup wine vinegar1/2 cup olive oil 4 teaspoons Dijon mustard 2 teaspoons crushed red pepper 2 teaspoons salt fresh ground pepper to tasteDirectionsStep 1Boil peeled and clean shrimp with ...
Read more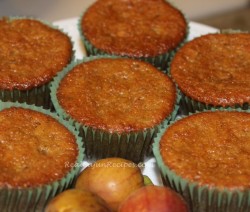 Making muffins is the perfect dish to make when figs first ripen and there is not enough to make a batch or preserves or jam. Fig Cake taste using fresh figs, These muffins are so good you will want to freeze figs to make these again. Ingredients1/2 cup cooking oil ...
Read more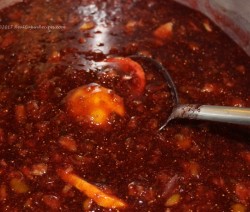 One of the more popular fig preserves recipes – The jello reduces the cooktime substanially over regular fig jam and allows the jam to set. Ingredients6 cups mashed/pureed fresh figs6 cups granualted sugar1/2 medium lemon sliced 4 - 3oz boxes or 2 - 6oz strawberry jello DirectionsStep 1Mash or puree ...
Read more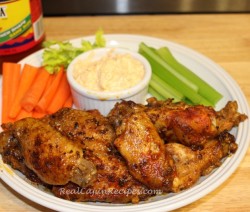 A twist on Blue Cheese dressing for your superbowl parties! Use the sauce from this Cajun Hot Wings recipe – http://goo.gl/wTFZwO An adaptation from a Betty Crocker recipe Ingredients1/2 cup chunky blue cheese dressing4 ounces cream cheese1 celery stalk chopped fine2 to 3 tablespoon buffalo wing sauce DirectionsStep 1Microwave the cream ...
Read more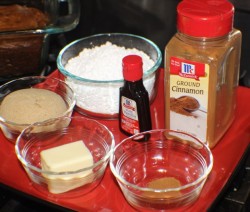 Perfect frosting for a nice change from powdered sugar frosting Ingredients1/4 cup (3 tablespoon) butter1/2 cup firmly packed brown sugar1/2 teaspoon cinnamon2 tablespoon evaporated milk1 teaspoon vanilla extract1 1/2 cups powdered sugar or more if needed1/2 cup chopped pecans, toastedDirectionsStep 1Place pecans in microwve for 1 minute - Set asideStep ...
Read more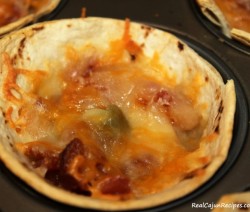 Shrimp used in a fresh new way. IngredientsOne pack small round tortillas1/2 stick of butter (4 tablespoon)Cajun Seasoninggarlic powder and onion powder (optional)Shredded cheddar cheese Shredded pepper jack cheese Jalapeno pepper rings seeded or canned pepper rings6 slices of bacon cooked and chopped coarselyDirectionsStep 1Make the tortilla cups by cutting ...
Read more Great on crackers as an appetizer It is sweetness with a kick. It is great on pork and ham. Ingredients1 (10 ounce) jar apple jelly1 (10 ounce) jar pineapple fruit preserves1 (8 ounce) jar prepared horseradish1 tablespoon ground dry mustard1 teaspoon cracked black pepperDirectionsStep 1In a small bowl, mix together ...
Read more Kumquats are tiny fruits with a sweet to sour citrus flavor and a fully edible peel. Kumquats are in season starting in October in South Louisiana. Ingredients2 teaspoon baking powder1 teaspoon soda1/2 teaspoon salt3 cups flour2/3 cup oil1 cup brown sugar4 eggs2/3 cups milk2 cups whole seeded kumquat preserves1 cup nutsDirectionsStep 1Preheat oven to 350 ...
Read more