Recipes With Course:
Appetizers Homemade Cajun BBQ sauce, with a kick. Ingredients4 garlic cloves minced 2 cups chopped onions 1/2 cup butter or margarine 2 cups ketchup 2 cups water 1/2 cup vinegar 1/2 cup sugar 2 tsp salt 1 tsp cayenne 4 tsp Worcestershire Sauce fresh chopped jalapeno (optional)DirectionsStep 1Cook garlic and onion ...
Read more This popular punch is quite often served at large events in Acadiana. Ingredients4 small cans frozen lemon juice 6 small cans frozen orange juice 2 cups sugar 2 cans (no. 5) pineapple juice 2 gallons water 4 quarts ginger aleDirectionsStep 1Chill the ginger-ale. Step 2 Mix all other ingredients except ...
Read more Ingredients1/3 cup plus 1/2 cup butter divided 20 cream-filled chocolate sandwich cookies, crushed 1 (14 oz) package caramels 3 cups chopped pecans Topping 3/4 cup semisweet chocolate chips 3 tbsp butter 3 tbsp heavy whipping cream 3 tbsp light corn syrup 3/4 tsp vanilla extractDirectionsStep 1In a large saucepan, melt ...
Read more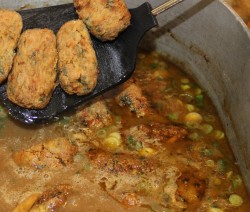 Get fo' or t'ree of y'all's people together; maybe your nonc or your parraine and Granmere' and f'sho your cher ami, especially if y'all make double or quadruple batches. Good company around the make-table makes the time go fast and the food taste better. This recipe quantity allows for freezing. If ...
Read more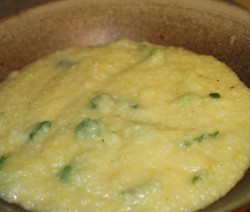 My friends all go to town on these incredible grits. Use this dish as a base for Sausage or Shrimp Grits. Ingredients4 ounces butter 1 quart (4 cups) chicken stock/broth 1/4 cup chopped green onions 1/4 cup heavy cream or Half n Half 1 cup grits 4 ounces swiss or ...
Read more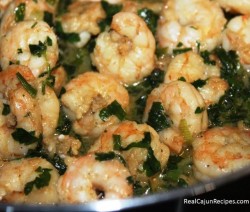 Always a hit at brunches. Just ask that Jenny girl. Ingredients1 pound medium to large shrimp, peeled & deveined 1/4 to 1/2 stick butter 1/2 cup chopped green onions 1/4 pound fresh, sliced mushrooms 1/4 tsp salt 1 tsp garlic powder or 1 clove minced garlic or both 1 tbsp ...
Read more Ronnie & Amy brought these oysters crackers for one of our dinner parties and they were so good! A taste very similar to the Cajun Firecrackers. Ingredients2 large packages oyster crackers 1 large package Hidden Valley Ranch 1 tsp dill seed 1/2 tsp garlic powder 1 tsp lemon pepper 1 ...
Read more Chrissy's uncle sent us this prodigious recipe  Prodigious you say… why not just say impressive Ingredients3 pounds venison or beef 1 cup soy sauce 1 cup Worcestershire sauce 1 tsp salt 1/2 cup teriyaki 1 tsp black pepper (peemon noir) 3 or 4 tsp Tony Chachere 3 tsp or 4 ...
Read more