Recipes With Course:
Appetizers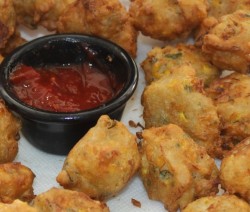 MawMaw halved the recipe and still made 20 beignets. Ingredients4 cups canola 3 cups flour 2 cups milk 1 tbsp baking powder 1 tbsp seasoned salt 1 tbsp garlic 1 tsp thyme 1 tsp Original Louisiana hot sauce 1 pound lump crab meat 2 cups fresh corn cooked 1/4 cup ...
Read more Many may be turned off by the thought of this dish but this is absolutely a delicacy. Is not sucking crawfish heads considered a delicacy. Ingredients1 beef brain 3/4 cup corn flour Garlic powder to taste Salt and pepper to taste 2 - 4 tbsp lard, oil, or bacon grease ...
Read more Ingredients2 tbsp olive oil 6 jumbo artichokes 1 cup mayonnaise 1/4 cup mayonnaise 1/4 tsp Worcestershire sauce 1/4 tsp fine salt 1/4 tsp fresh black pepper 1/4 cup bread crumbs, dried 1/2 tsp tarragon, dried 2 tbsp chopped scallions 2 tbsp chopped parsley leaves 2 tsp grated lemon zest 1 ...
Read more Ingredients3/4 cup crushed saltine or Ritz crackers 4 tbsp butter melted Nonstick cooking spray 1 cup chopped green onions with tops 2 tbsp butter 2 eggs 1 cup evaporated milk 1/2 tsp salt 1/2 tsp pepper 6 - 8 sliced cooked bacon, crumbled 1 cup grated Swiss cheeseDirectionsStep 1Preheat oven ...
Read more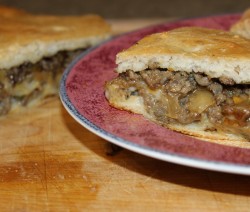 This is a favorite family recipe for any get together or just because. Bridgeford is my preferred brand for this recipe. To get a lovely shiny crust on your bread, brush lightly scrambled egg white on the dough before baking. Ingredients1 loaf of Bridgeford frozen bread 1/ 2 pound regular ...
Read more Stuffed Pasta Shell with Goat Cheese, Smoked Alligator Sausage, Crawfish, cream and spices – One of our realcajunrecipes.com co-founder Chrissy LeMaire favorite appetizers! From the owners of PJ's – "Christina LeMaire came to PJs to eat recently. Please tell her hello and thank you for a really great web site. ...
Read more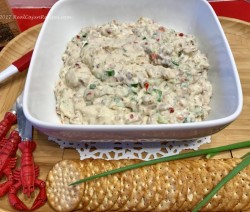 There are several versions of Cajun Caviar – this is one of them. A word on this dip: The longer left in the fridge the better. One day is good; the next day is better; and one week later it is "Oh my God, how good"! The secret is to ...
Read more So deliciously rich and satisfying – just like Momma use to make. Ingredients4 sticks butter 3 cups chopped corn 1 cup chopped bell pepper 1 cup chopped celery 3 cups chicken broth 3 cans corn or 6 ears fresh corn 2 large cans evaporated milk 2 pounds crab meat 2 ...
Read more