Recipes With Course:
Appetizers So deliciously rich and satisfying – just like Momma use to make. Ingredients4 sticks butter 3 cups chopped corn 1 cup chopped bell pepper 1 cup chopped celery 3 cups chicken broth 3 cans corn or 6 ears fresh corn 2 large cans evaporated milk 2 pounds crab meat 2 ...
Read more This dip tastes JUST like Buffalo wings! The recipe provides a mild kick, but you can make it as hot or mild as you want. My friends can't stop eating it when I bring it to parties. Ingredients2 (8 oz) bricks of Cream Cheese (softened) 3/4 cup Frank's Red Hot ...
Read more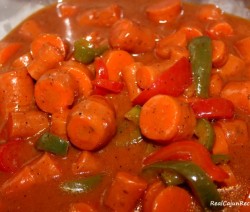 Also known as copper pennies, this makes a very good side dish with your main meal especially roast. Great for parties too! Ingredients2 Bunches (packs) of Carrots 1 Bell Pepper, cut into strips 1 can Cream of Tomato Soup 1 tbsp Worcestershire Sauce 1 tbsp Salt 1 tbsp Black Pepper ...
Read more An appetizer to soothe the Cajun beast in us all. Great for LSU, Saints and UL tailgate parties! Ingredients2 boxes Green Giant creamed spinach 1 can artichoke hearts, quartered and drained 1 medium onion, chopped 4 cloves garlic, minced fine 8 ounces sour cream 4 ounces cream cheese 1 tbsp ...
Read more This recipe is a tastier kick of your standard, simple Velveeta Cheese/Rotel mixture. Great for tailgate parties, football games, and graduation parties. Ingredients2 pounds Velveeta Cheese 3 cans diced Rotel Tomatoes 1 pound ground beef 1 clove garlic minced fine 1 tbsp Tony's/Slap Yo Mamma 1 medium onion, dicedDirectionsStep 1Start ...
Read more This dish is a great budget stretcher. Great one-pot dishes such as this one are family favorites and are great for potlucks. Ingredients1 cup packed cooked rice 3 tbsp flour 1 tsp chili powder 1 /12 tsp salt 1/4 tsp black pepper 1 pound ground beef 2 tbsp finely chopped ...
Read more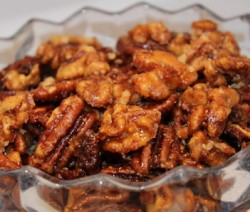 Toasty cinnamon pecans super for munching, great party dish, food gifts and as a crunchy topping on salads. Ingredients2 tbsp melted butter 2 tbsp light corn syrup 2 tsp granulated sugar 1/2 tsp ground cinnamon 1/4 tsp salt 4 cups shelled pecan halvesDirectionsStep 1Preheat oven to 250 degrees. Step 2Mix ...
Read more Every Christmas party that we invited Stella to she brought her signature dish. Stella was French Canadian, but I always told her she could be a transplanted Cajun. Ingredients1 small can Golden Mushroom soup 1 (8 oz) package cream cheese, softened 1 envelope Knox Gelatin 3 tablespoons cold water 6 ...
Read more