Recipes With Course:
Appetizers Every Christmas party that we invited Stella to she brought her signature dish. Stella was French Canadian, but I always told her she could be a transplanted Cajun. Ingredients1 small can Golden Mushroom soup 1 (8 oz) package cream cheese, softened 1 envelope Knox Gelatin 3 tablespoons cold water 6 ...
Read more A great party dip to serve with crackers or chips. Ingredients2 pounds crawfish, chopped 1 can cream of mushroom 1 can cream of celery 1 can Rotel 1 stick butter 1 onion, finely chopped 1 bell pepper, finely choppedDirectionsStep 1Sauté the onion and bell pepper in butter until translucent. Step ...
Read more Baseball, Hot dogs, Apple Pie and Chevrolet! Ok everyone, date yourself – Do you remember that commercial in the 70's? Now we hear – LSU! LSU! Go team go! Try this delicious easy appetizer for your next tailgate party. Ingredients1 lbs Hot Dogs, sliced 1 can or bottle of beer ...
Read more There are three types of spinach available in U.S. supermarkets: savoy (curly leaf), flat (smooth leaf) and semi-savoy (slightly curly leaves). The savoy has dark green crinkly leaves while the flat variety matches its name. The spade-shaped leaves are flat leaves and have a milder taste than the savoy. The ...
Read more Fun Facts on eggs from the Department of Agriculture. Eggs age more in one day at room temperature than in one week in the refrigerator. Occasionally, a hen will produce double-yolked eggs throughout her egg-laying career. It is rare, but not unusual, for a young hen to produce an egg ...
Read more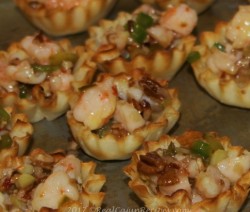 Neat appetizer for your dinner parties or family gatherings. Ingredients3 tbsp celery, finely chopped 2 tbsp green peppers, finely chopped 3 tbsp pecans, chopped 1 tbsp sweet pickles, chopped 1/4 cup Italian Dressing plus 2 tbsp 1/2 lbs shrimp 1 1/4 cup all purpose flour 1/2 tsp salt 1/4 cup ...
Read more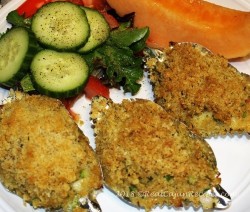 As many times as I brought my children crabbing at Rockefeller Refuge, Holly Beach, and road side ditches, all I really saw was the crab walking. That makes them easier to catch for this stuffing. Ingredients1 lbs crab claw meat 1/2 cup onion, finely chopped 1/2 cup celery, finely chopped ...
Read more "A note from this recipe dated June 1998. I have used this recipe all my adult life." Ingredients2 cups sugar 4 eggs 4 tsp baking powder 1 tsp soda 1 1/4 cup milk 1 cup margarine or butter 8 cups flour or as needed to make dough stiff nutmeg to ...
Read more