Recipes With Course:
Appetizers Easter is a time for many things, but for some it's all about the candy. One of the most popular Easter candies is the Gold Brick. For those who can't find them, or want them year-round, this recipe is a handy fill-in. Ingredients4 1/2 cup sugar 1 large can pet ...
Read more Louisiana is known as a hunter's paradise for a reason. Most Cajun children know how to catch shrimp by throwing a cast net while standing ankle deep in Rockefeller Refuge waters or the waters of Rutherford Beach. Because of its unique location, Rockefeller Wildlife Refuge near Cameron, Louisiana is one ...
Read more A good sauce piquant is full of flavor and sass. This recipe lives up to that reputation. Dale Begnaud in memory of his mom's great Cajun cooking Ingredients3/4 cup oil 3/4 cup flour 1 bunch green onions scallions 1 large onion 1 medium bell pepper 1 (15 oz) can tomato ...
Read more These nuts are wonderful for entertaining or just plain snacking. You can use any nuts such as pecans, walnuts or almonds. If using almonds, blanch the nuts. Ingredients1 egg white 1 tbsp water 2 cups whole nuts (if using almonds, blanch the nuts) 2 tsp chili powder 1/2 tsp ground ...
Read more Mix this sandwich spread for cold cut sandwiches, cold chicken sandwiches or use as a dip at parties with your favorite crackers or chips. Ingredients1 (8 oz) cream cheese 1 cup mayonnaise 2 tbsp liquid from olives 1 dash black pepper 1 cup chopped olives and pimentos 1/2 cup chopped ...
Read more Start the coffee brewing or run down to the corner and get some Community Coffee, because this cake is just wonderful with coffee. Ingredients2 sticks butter 1/2 cup shortening 3 cups flour 3 cups sugar 1/2 tsp baking powder 1 cup milk 1 tsp rum flavoring 1 tsp coconut flavoring ...
Read more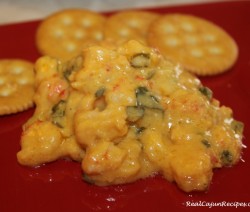 This is a great appetizer served on Ritz crackers or in serve as a main course in a pre-baked pie shell. I always make a double batch as it seems to disappear FAST! Ingredients2 tbsp butter 1 bunch green onions- scallions chopped 2 tbsp flour 1/2 cup whipping cream 1/4 ...
Read more