Recipes With Course:
Appetizers This dish is very fast and really tasty. It is a dish for the whole family. I serve it with garlic bread and a green salad. Ingredients1 pound large shrimp 1/2 stick butter fresh garlic to your taste 1/2 cup chopped red, yellow, and green bell peppers 1/2 cup parsley ...
Read more One of my favorite foods. Great of Parties and weddings. Simple, fast and tasty! Ingredients12 ounces bottle chili sauce 2/3 cup brown sugar 2 tbsp ketchup dash of pepper Large package of cocktail wienersDirectionsStep 1Combine the first four ingredients in portions until desired taste is reached. Pour into fondue pot ...
Read more Fruit cut into bite size pieces can make the party platters lots of fun and so good. This dip is great for parties and weddings! Ingredients1 (8 oz) package cream cheese 1 small can crushed pineapple drained but reserve juice condensed milk fruit of your choiceDirectionsStep 1Bring the cream cheese ...
Read more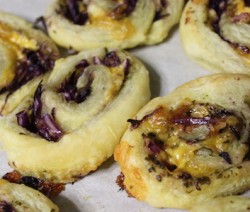 This Noveau Cajun selection is going to make you say "throw me one Mister so I can try it!" It bakes up perfect and the taste is worth trading your Mardi Beads for. The color of this appetizer blends in perfect with Mardi Gras theme colors. The ease of preparation ...
Read more Many Cajuns grew up eating this appetizer at the Cock of the Walk Restaurant on Johnston Street in Lafayette before it burned down. The restaurant seemed almost famous for this dish. Many times, the restaurant's parking lot would become flooded after heavy rains and once, a Kaplan man stepped out ...
Read more Per www.freetranslation.com, farci (fahr-SEE) means stuffed. Vegetables pears and Chayote squash are mirliton to Cajuns but are all the same vegetable just different names based on the region one is from. Ingredients4 mirliton 1/2 cup butter 8 ounces finely ground ham 1 pound finely ground boiled shrimp 1 small white ...
Read more I am 11 years old and love to bake. I made these for Christmas for my Daddy who is in the Air Force. These are quick and fun to make! Ingredients1 bag waffle cut pretzels 1 bag Rolo Candies Pecan halves for toppingDirectionsStep 1Unwrap candies and place each on a ...
Read more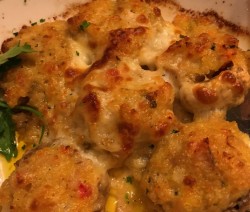 Great idea for holiday parties and dinners or just when you are plain hungry! Ingredients20 2 inch fresh mushrooms 2 tbsp butter 2 tbsp lemon juice 1 tsp garlic powder 1/2 pound lump crab meat 2 tbsp minced pimento 2 tbsp mayonnaise 2 tbsp sour cream 1 tsp salt dash ...
Read more