Recipes With Course:
Appetizers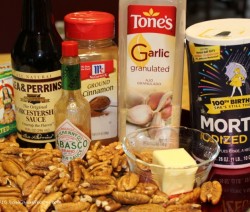 Pecans are popular in Cajun culture used in making the ever popular pralines, cakes and cookies. Here is another way to enjoy pecans with a little touch of hot! Ingredients3 tbsp butter or margarine 2 cups pecan halves 3 tbsp Worcestershire sauce 1/2 tsp salt 1/2 tsp cinnamon 1/4 tsp ...
Read more I love going to weddings just so I can drink this punch. Made this for my friends in San Diego and it was a hit. Ingredients3 cups hot water 1 cup sugar 2 packages jello any flavor or color 3 cans frozen orange juice 1 can frozen lemonade or limeade ...
Read more My sister prepared this punch for my son's graduation party and it was a hit. It was the first dish I ran out of. It is a basic Lemon Lime Punch with Sherbet but the green color makes it reminiscent of the swamp waters. You could add purple food color ...
Read more A great Christmas and holiday punch. Drink Responsibly. Ingredients1 litre Amaretto 2 (12 oz) can frozen orange juice 2 (12 oz) can frozen lemonade 8 cups water 1/2 cup sugarDirectionsStep 1Mix together the Amaretto, orange juice and lemonade. Boil together 8 cups of water and the 1/2 cup sugar making ...
Read more A very popular and easy to make treat for all your parties and family gatherings. Add more flavor – for crawfish-shrimp jelly flavor add 1/8 teaspoon of Zatarain's Concentrated Shrimp & Crab Boil for every pint of your favorite pepper jelly recipe.Serve with crackers or over cream cheese. Ingredients1 cup ...
Read more Eggnog is a Christmas Classic. Most people however do not like the fact that some eggnogs, as this one, are made using raw eggs. There is a solution; look for pasteurized eggs. This recipe will also give you a way to prepare the nog with regular eggs also. Ingredients1 dozen ...
Read more Although my sister and I use to fight for the chicken wing, wings were once thought of as the most useless piece of a chicken worthy only of the stock or soup pot. Nowadays, hot chicken wings are all the rage as appetizers and party fare. Originally gaining their fame ...
Read more Tac-Tac, our French word for popcorn, can be fixed so many different ways. This is a classic Cajun treat. Ingredients6 cups popped popcorn 2 tbsp butter 2 cups granulated sugar 1 cup water 1 tsp vanilla food coloringDirectionsStep 1Place the popped corn morsels into a shallow pans to crisp in ...
Read more