Recipes With Course:
Appetizers This bright, spicy condiment is great alongside fowl or simply spread atop cream cheese on a cracker. Serve at your next party or family gathering. Ingredients4 large red peppers, cut into 1/2 inch dice 2 jalapeno, seeded and finely chopped 4 cloves garlic, finely minced 1 1/4 cup cider vinegar ...
Read more These are wonderful tiny crust to put your favorite sweet or salty filling in. This crust is so versatile that you can fill them with your favorite shrimp or crab dips or fill with fig preserves or pecan pie filling. Hors d'oeuvres would be much more popular if they weren't ...
Read more
Whether you pronounce it "pih KAHN" or prefer "PEE kan", one of the most common desserts with the pecan as a central ingredient is the pecan pie. Here is the bite size version of the ever popular dessert. IngredientsCrust 1 stick 8 ounces butter 3 ounces Philly Cream Cheese 1 ...
Read more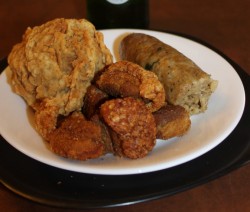 Although cracklins (grattons in Cajun) are commonly known as pork rinds or baconettes, they are really not the same. While both are both made with pork fat, each has a different method of cooking and a different cut of meat. To make cracklins you use a cut of pork that ...
Read more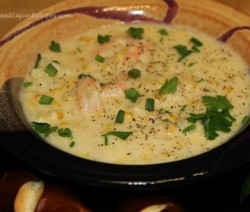 What a delightful and rich tasting soup. Serve this as an appetizer and you will be the hit of your dinner party. Great anytime comfort food is needed. Ingredients1 stick margarine or butter - 1/2 cup 2 tbsp flour or gravy mix 1 medium chopped onion white onion preferred 1 ...
Read more This is a quick and easy stuffing for your baked chicken. Ingredients2 1/2 cups white day old bread crumbs 1/2 tsp finely chopped onion 3 tbsp finely chopped parsley 1 tsp poultry seasoning 1/2 tsp salt 1/8 tsp pepper 3 tbsp melted butter or margarineDirectionsStep 1Crumb bread into small pieces. ...
Read more This dish can be used as a side dish or main course. Ingredients1 large onion, chopped 1 large bell pepper, chopped 1 stick margarine or butter 1 lb crawfish tails 4 (10 oz) cans cream of potato soup 2 (15 oz) cans yellow cream style corn 3 cups of skim ...
Read more Trifles are a cold dessert, made both plain and elaborately decorated. This dessert can be made with sherry, fruit juice or liqueur-soaked sponge cake in the base of a large or individual serving dish, covered with layers of fruit, jelly, custard and whipped cream in various combinations. It is very ...
Read more