Recipes With Course:
Appetizers For a while, everyone in the small city where I was from was making this tea. The original recipe called for Start – an orange-flavored breakfast beverage popular in 1968. That alone dates this recipe. Ingredients1 can Start Orange Drink or Tang 1 large envelope Lipton Lemon flavored ice tea ...
Read more Enjoy this soothing drink. Great for a morning or mid-afternoon treat. Ingredients1 (3 oz) package Twist Lemonade or Crystal Lite 1 jar Tang 1 cup instant tea 1 1/2 cup sugar or Splenda 1 1/2 tsp cinnamon 1 1/2 tsp cloveDirectionsStep 1Mix together in a bowl. Store in a capped ...
Read more A great shortbread cookie to enjoy. Good for tea parties and a great treat to serve when sipping coffee with your friends. Ingredients1 stick butter 2 eggs 2 tbsp or 3 vanilla 1 cup light brown sugar 1 yellow cake mix 1 (12 oz) bag chocolate chipsDirectionsStep 1Melt butter. Step ...
Read more While MawMaw was going through her friend's recipe box, she found this recipe and made them. She invited that friend to dinner and served them. She was nice enough to say that I made them as good as she. We both laughed and everyone enjoyed them. Make these as part ...
Read more Many Cajuns grew up eating this appetizer at the Cock of the Walk Restaurant on Johnston Street in Lafayette, before it burned down. The restaurant was famous for this dish. Many times, the restaurant's parking lot would become flooded after heavy rains. Once, a Kaplan man stepped out of his ...
Read more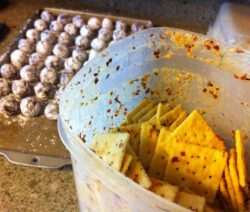 Cajun Firecrackers a zesty cracker perfect for dips or snack. A really simple cracker recipe with a taste that pops. Perfect with your favorite beer. This makes a great Superbowl treat. Geaux Saints!  Geaux LSU!! Geaux UL!! Ingredients1 1/3 cups Canola oil 2 packages Hidden Valley Ranch Dressing Powder Mix ...
Read more We sold these at the Saturday Food Festival at the World Championship Gumbo Cook-off and they were a big hit. Ingredients1 lbs shrimp, peeled, de-veined, 30-40 ct 1 box Golden Dipt Cajun Seafood Coating Water Cooking oil 8" Wooden Kabob sticksDirectionsStep 1Mix the Golden Dipt Seafood Coating with enough water ...
Read more la baisse acadien de fromage is a great cheese dip. Fast and easy. Spicy, served with corn chips. Serve this at your next Super Bowl Party or someone's birthday party. Ingredients1 large box Velvetta Cheese 1 small can green chilies 1 can evaporated milk 1 can cream of celery canned ...
Read more