Recipes With Course:
Appetizers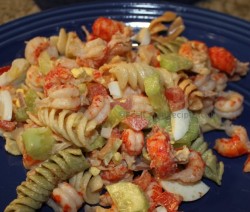 A simple salad made with Louisiana's finest home grown crawfish. Ingredients1 pound crawfish tails, cooked in spicy boil and peeled 1 rib celery, chopped 1 bunch scallions (green onions) mayonnaise to desired wetness Old Bay Seasoning to taste McCormick Creole Seasoning red pepperDirectionsStep 1Slightly chop the crawfish, leaving lumpy pieces. ...
Read more This recipe is a great dip for parties and holiday fun. A very popular request. Ingredients1 link boudin 8 oz sour cream 1 tbsp mayonnaise or Miracle Whip pinch of Tony Cachere's or Cajun seasoningDirectionsStep 1Remove boudin from casing and crumble into a microwavable bowl. Microwave boudin for about 2 ...
Read more Green beans have many common names – string beans, pole beans, snap beans, zydeco – just to name a few. Two of my favorite ways to eat green beans is to break it off the plant and eat it fresh; the other is pickled. I just wonder if I could ...
Read more Chantel Menard for her Dad Howard Menard A classic favorite for Cajun weddings and family gatherings. The color of this dish comes out a pretty salmon color and compliments the bride and groom's reception food table. Ingredients2 cans tomato soup 16 ounces Philly crème cheese 1 cup onions, chopped 1 ...
Read more An appetizer for all seasons and all parties. They can be prepared ahead of time and cooked right before serving. Ingredients1/2 pound butter, softened 2 cups flour, sifted 1/4 tsp cayenne pepper 1 pound grated sharp cheddar cheese 1/4 tsp dry mustard 1 tsp garlic powder 2 tsp green onions, ...
Read more This is a recipe request for GeeWee. GeeWee got the name from her first grandchild. Her grandchild had a Granny and a MeeMee on her Daddy's side and one day she walked in and the baby threw her arms up and said GeeWee! It stuck. Gee Wee states, "I'm her ...
Read more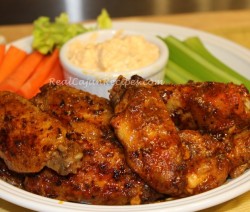 Hot, Hotter or Hottest… your choice when cooking these wings. Ingredients1 (16 oz) bottle hot sauce (see below for suggestions) 2 sticks of whole, salted butter 1/3 cup buttermilk 1/4 cup mustard Salt, black pepper, red pepper Juice of one lemon 32 chicken wings, tips cut off, drums divided from ...
Read more