Recipes With Course:
Appetizers Mawmaw was told that this was the secret dish that wooed this happy lady into marriage. The author also adds that "this is a famous and expensive New Orleans dish that you serve as is with crusty French bread and use the juice w/butter as the dip". Ingredientsfresh shrimp with ...
Read more The author, who now lives in London, grew up on Gulf Coast and used to do this for my friends on visits to New Orleans. They always said if I knew how to market it, I'd be rich. Talk about good! Ingredients1/2 cup pecans, blitzed up in the food processor ...
Read more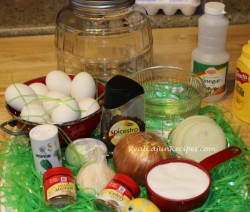 To make easy to peel hard boiled eggs, allow the fresh eggs to age for a couple of weeks in the refrigerator before boiling. Ingredients12 hard cooked eggs 2 medium sliced onions 2 tbsp yellow mustard 2 cups white vinegar 1 cup sugar 1 tbsp salt 1 tbsp celery seed ...
Read more Eggplant "Cajun Canoe" fried with Italian style bread crumbs and manned by a crew of 5 Creole garlic butter sautéed shrimp. Ingredients1 large eggplant, quartered and v-carved into a canoe shape 2 cups Italian bread crumbs 20 large shrimp, peeled except the tail 3 cloves to 5 of garlic, chopped ...
Read more Great for a baby or wedding gift shower. Ingredients1/2 gallon lime and pineapple sherbet 1 can (48 oz) 7-up 1 pound can crushed pineapple 1 box lemon Jell-O 1 box lime Jell-O 3 large bottles ginger ale 1 No 2 can chunk pineappleDirectionsStep 1Freeze the sherbet in a ring before ...
Read more This bouille is an old Cajun recipe from my mother-in-law. Mine never tastes quite as good as her for some reason! You can eat this warm by itself or use it a topper for sliced angel food cake or crumbled regular cake. You can top with chocolate syrup, cherries, etc. ...
Read more From Trappey's Pepper Plant in New Iberia, LA: Did you know that peppers, both hot and mild, contain an ingredient that can actually make you feel better? It's called capsaicin, and it's a natural stimulant that causes the release of endorphins. (Endorphins are the body's natural painkiller, and can create ...
Read more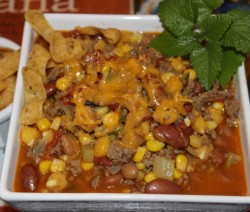 I usually cook this on Sundays before a Saints game. It's a crowd favorite — the ladies love it! A visitor posted that this soup freezes really well! Ingredients2 pounds ground beef 2 15 oz cans kernel corn (undrained) 2 15 oz cans pinto beans (undrained) 2 15 oz cans ...
Read more