Recipe Type:
Crawfish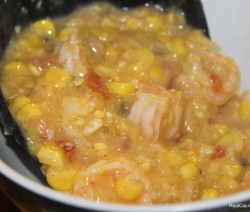 Delicious entree or side dish made of fresh corn and shrimp; easy, versatile, and quick to cook. Ingredients2 sticks butter4 cups fresh cut corn or fresh frozen2 cans ROTEL brand tomatoes (tomato with green chilies)1 can cream of mushroom1 can cream of shrimp2 medium onions, chopped2 ribs celery chopped1 bell pepper chopped1 ...
Read more This recipe shows the versatility of three popular Cajun favorites. Fresh pork sausage or smoked sausage maybe used and crawfish or shrimp may be used, Ingredients1 pound ground beef1 pound ground pork sausage, or 1/2 pound Jimmy Dean sausage or 1 pound smoked sausage1 large onion finely chopped1 bell pepper ...
Read more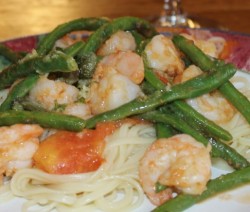 Delicious, easy to prepare and "gud". This recipe is an adaptation from Fast and Fresh made with three Cajun favorites – Shrimp – String Beans – Tomatoes..Oh wait there is a fourth favorite – Pasta. We love linguine for this recipe Ingredients1 pound cleaned shrimp 1/2 pound fresh or frozen string beans ...
Read more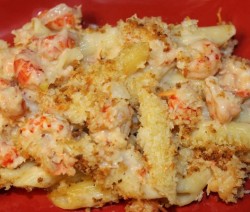 My daughter had sent me Truffle Oil from Belgium while living overseas, I then set out to find a recipe or recipes where I could use the oil. It seems there are recipes all over the net using this product. This recipe is an adaptation from FoodNetwork. Although not original ...
Read more Crawfish Étouffée is one of our favorite Cajun classics, but many newcomers find the dish tricky.  This recipe is sure to deliver delicious results in a short amount of time. Ingredients1 lbs crawfish or shrimp tails, shelled and cleaned1 onion, chopped1 bell pepper, chopped1 can cream of mushroom soup1 can Rotel ...
Read more MaryAnn Broussard Recipe Collection for Ms Ronnie Mack Broussard Cajuns love their rice, and their modern rice cookers. No matter the brand, Cajuns refer to their rice cooker as a Hitachi! Ingredients1 pound peeled shrimp 1 pint oysters, drained 1- 6oz can crabmeat or 1/2 cup fresh 1 can 4oz ...
Read more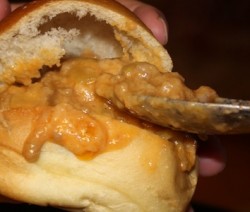 Pistolettes are a football shaped brown 'n serve bread rolls also known as French rolls. The inside of these rolls are carved out and replacing the cavity a delicious concoction of shrimp or crawfish wonderment. As my son says, there is nothing that taste better than 2 carbs together. This ...
Read more