Recipe Type:
Crawfish One spelling variation for this dish is "mock" choux. This is a spicy blend of Louisiana crawfish, corn, veggies and seasoning. Ingredients1 1/2 sticks butter 2 tbsp Jack Daniels Whiskey 1 bell pepper 1 large onion 1/4 cup garlic, minced 1-2 lbs crawfish 1 can Extra-Hot Rotel Tomatoes 1 tsp ...
Read more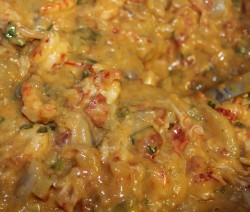 This is actually our go-to etouffee recipe, even though it contains no butter or crawfish fat. The flavors are really incredible and have been known to prompt marriage proposals (no kidding, just ask Shauna Chauvin Richard!) Ingredients1 lb crawfish tails or shrimp, peeled and cleaned 1 onion, chopped 1 bell ...
Read more Can also be made into egg rolls Ingredients1 lb crawfish, peeled 1 stick butter 1 large onion, chopped 1 medium bell pepper 1/2 cup celery, chopped 1/2 cup picante sauce 1/2 cup minced garlic 1 (10 oz) can mushroom soup 3 cups cooked rice 1/2 cup onion tops or chives ...
Read more Quick and easy Cajun Dish. Cooked in one easy step right in your rice cooker. Ingredients1 lb Shrimp or Crawfish 1 medium onion, chopped 1 bell pepper, chopped 1 small bunch each green onion tops & parsley 1 1/2 cups washed rice 1 ½ cups water 1 (14 oz) can ...
Read more Ingredients1 lb peeled crawfish tails 1 (10 oz) can Rotel tomatoes 1 onion, chopped 1 bell pepper, chopped 1 stalk of celery, chopped 1 stick butter 2 cups waterDirectionsStep 1In a large pan, cook vegetables in butter until soft. Add the can of Rotel and simmer until all the water ...
Read more Ingredients1 cup celery, chopped fine 1 cup chopped bell pepper 1 cup onion, chopped fine 1 (4 oz) jar chopped pimento, drained 3/4 cup salad dressing 1 1/2 tbsp mustard 1/4 cup pickle relish 3 to 4 boiled eggs, chopped 2 lbs cooked shrimp or crawfish, cut in halvesDirectionsStep 1Mix ...
Read more Ingredients1 cup onions, chopped 1 cup parsley, chopped 1 cup bell pepper, chopped 1 tsp garlic 1 (10 oz) can cream of celery soup 3/4 stick butter 4 ounces tomato sauce 1 lb crawfish 1/2 cup seasoned bread crumbs 1 tsp salt 1 egg, beaten 1 cup milk 1 tsp ...
Read more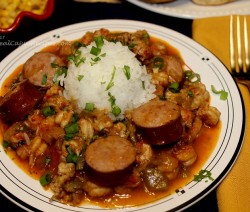 A Cajun dish so common, it's in everyone's recipe box. The no-soup etouffee -one of my personal favorites. Ingredients2 lbs peeled crawfish tails 1/2 stick (1/4 cup) butter 1/2 cup chopped celery 1 cup chopped onion 1/2 cup chopped bell pepper 2 cloves of garlic 1 tbsp cornstarch 1 tbsp ...
Read more