Recipe Type:
Beef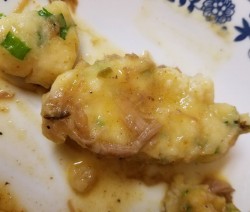 This recipe was originally posted to the Cajun French Virtual Table Francaise Facebook Group. It's different from other dumplings posted on the site because it's light and fluffy, and features parsley and onion tops. The author, Jamie Sellers, said "We cooked our dumplings in a pork roast and gravy. You ...
Read more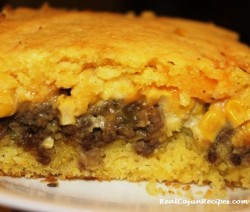 Jiffy Cornbread Mix is the "cornbread" to this recipe. The slight sweetness of the cornbread enhances the taste of the dish. Thanks to Linda D Noel for Method 2 preparation.   Ingredients1 lb ground beef1/2 cup onion, chopped fine1/2 cup bell pepper, chopped fine1/2 lb cheddar cheese, grated 2 jalapenos, ...
Read more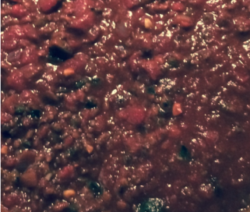 Chili Cook Off – Blue Ribbon First Place – RaginCajun aka Rajun Cajuns from South Louisiana!!! It's always a Texas Day all over town on this day as it was the first day of the Houston Livestock Show and Rodeo.  Trail riders from all over ride into town after a ...
Read more This recipe shows the versatility of three popular Cajun favorites. Fresh pork sausage or smoked sausage maybe used and crawfish or shrimp may be used, Ingredients1 pound ground beef1 pound ground pork sausage, or 1/2 pound Jimmy Dean sausage or 1 pound smoked sausage1 large onion finely chopped1 bell pepper ...
Read more A blend of aromatic herbs great for flavoring fish and pasta dishes. Salt added separately according to your dietary needs. Ingredients2 tablespoon basil crushed or dill weed 2 tablespoon onion powder1 tsp oregano crushed1 teaspoon celery seed1/2 teaspoon black pepperDirectionsStep 1Mix all ingredients together; store in an airtight container.
Read more Most Cajun cooks will shake a little of this and some more of that – with this you shake only one time.  Salt added separately according to your dietary needs. Ingredients5 tablespoon onion powder3 tablespoon garlic powder/granules 2 tablespoon paprika1/2 tablespoon dry mustard1 teaspoon black pepper1 teaspoon dried thyme 1/4 ...
Read more Nothing is better than fresh tomatoes from the garden, unless they are baked with sweet corn in this refreshing summer pie. Ingredients2 pie crust 1/2 pound fried and crumbled bacon 1/3 cup Parmesan cheese 1/3 cup mayonnaise 2 tbsp fresh lemon juice 1 3/4 pound beefsteak tomatoes 1 1/2 cup ...
Read more Ingredients6 10 venison steaks (cubed is best) in a pinch you could substitute beef or pork instead 1 can mushrooms (small) 2 sweet onions chopped 1 bell pepper chopped 1 bunch chopped parsley 1/3 cup sweet basil 2 ounces Heinz 57 Sauce 2 ounces A-1 Steak Sauce 1 to 2 ...
Read more