Recipe Type:
Fish Easy way to make a simple fettuccine without all the hassle! Ingredients1 lb crawfish tails 1 large onion, finely chopped 1 bell pepper, chopped fine 1/2 red pepper, finely chopped 1 stalk celery, finely chopped 1/4 cup chopped parsley 3 tbsp minced garlic 1 (10 oz) can Rotel tomatoes original ...
Read more The pasta dish of the Cajuns. Ingredients1 onion chopped 1 bell pepper chopped 2 sticks butter 1 can cream of mushroom soup 1 cup milk 2 tbsp flour 1 tsp salt 1 pound package Kraft jalapeno cheese 2 pounds crawfish 1 (16 oz) large bag broad egg noodlesDirectionsStep 1Cook noodles ...
Read more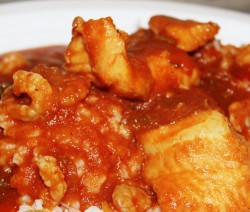 As fishermen, our freezer was always stocked with redfish and catfish. My mother, Meredith would make this Cajun dish that we enjoyed as children. I now make it for my children; it is one of the favorite meals. The Cajun version of courtbouillon is generally flavored differently than some because ...
Read more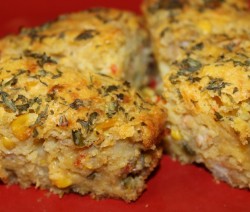 You will sing "Gimme Cornbread" after trying this excellent cornbread. Ingredients2 eggs 1 tsp salt 1/2 tsp baking powder 1 medium onion chopped fine 1/2 canola or vegetable oil 1 cup cornmeal 1 cup grated cheddar cheese 1/4 chopped jalapeno peppers or more to taste 1 large can cream corn ...
Read more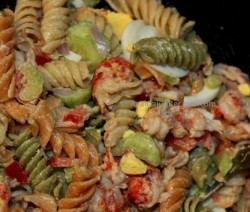 Using crab boil, a Cajun's favorite seasoning , this pasta serves up a unique flavor. This dish can be served hot or cold. It can also be used as the main dish. Ingredients1 bag 12 ounce size of Rotini noodles 1 pound crawfish tails 1 cup chopped celery 1/2 cup ...
Read more Great dip for parties, weddings or family gatherings. Ingredients8 lbs crawfish tails, peeled and chopped 1 can cream of mushroom 1 stick butter 1 medium onion, chopped fine 2 stalks celery, chopped fine 1 tbsp flour 1/4 cup cold water 1/2 tsp garlicDirectionsStep 1Sauté vegetables in butter until onions are ...
Read more Ingredients3 cups cooked rice 1/2 onion, chopped fine 2 tbsp melted butter 1 (12 oz) can of tuna (2 if desired) 1 tbsp parsley, finely chopped 1/4 tsp salt 1 tbsp green onion, finely chopped 1/4 tsp pepper 1 egg 1 (10 oz) can cream of mushroom soup (increase to ...
Read more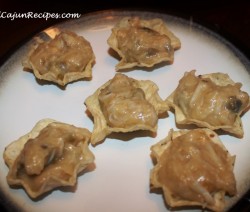 An easy classic dip great for parties and weddings. Ingredients2 lbs Crab, Crawfish or Shrimp 1/2 stick butter 1 bunch celery, chopped 1-2 onions, chopped 3 (10 oz) cans golden mushroom soup 1 bell pepper, choppedDirectionsStep 1Sauté onion, bell pepper and celery in the butter. Step 2Once soft, add the ...
Read more