Recipe Type:
Fish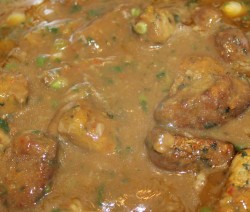 This dish is a labor of love, but well worth every minute. In this recipe, the crawfish heads are stuffed with a breading mixture. Collecting the crawfish heads after a crawfish boil is a great time to do this. As a note: clean the crawfish heads of the membranes and ...
Read more Ingredients1 lb crawfish tails 1 onion chopped 1 bell pepper chopped 2 tbsp oil 2 (10 oz) cans Golden Mushroom Soup 1 package angel hair pasta Salt to taste Red Pepper to taste Toby's or Season All to taste Garlic powder to tasteDirectionsStep 1Sauté the onion, bell pepper and seasonings ...
Read more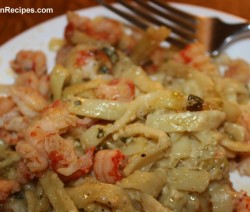 Pasta with cheese sauce and crawfish Ingredients1 stick butter 1 lb crawfish 1/2 small box of Kraft w/peppers cheese 1 pint half and half 1 (8 ounce) package Mozzarella cheese 2 celery stalks, chopped Garlic, chopped, to taste 1 onion, chopped 1 bell pepper, chopped 1/2 box Fettucini noodlesDirectionsStep 1Boil ...
Read more Ingredients1 tbsp low fat margarine 2 shallots or 1 small onion, finely chopped 3-4 cloves garlic, finely minced 1/2 cup low fat evaporated milk 1/2 cup low sodium, low fat chicken broth 1/4 cup parmesan cheese, grated 1/4 cup mild cheddar, shredded 1/2 to 1 lb crawfish (can be substituted ...
Read more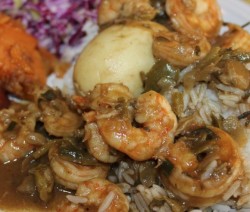 This was a Lent meal when I was growing up, now we have it anytime. This is the basic brown stew gravy, so you can make this dish with any seafood or meat. Meatball stew or pork stew can also be made from this basic recipe. Boiled eggs are also ...
Read more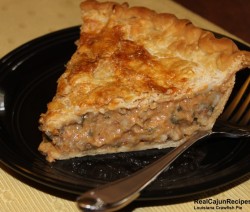 Crawfish Pie – a Louisiana favorite – No Crawfish? Put in dat shrimp instead. So Lentilicious gud, ma freind! Ingredients1 1/2 to 2 pounds crawfish tails 1 small onion, chopped 1 8oz stick butter 1 tsp each red pepper, black pepper 1 (10 oz) can cream of mushroom soup 1 ...
Read more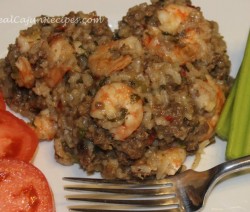 This is one of the best oven recipes for rice dressing. It's a foolproof dish with Cajun flavor. Ingredients1 lb to 1 1/2 lb ground beef (chuck preferred) 1 (10 oz) can cream of mushroom soup - undiluted 1 (101/2 oz) can French onion soup 1 (6 oz) can mushroom ...
Read more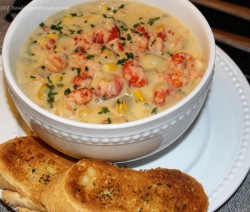 Cajuns love their seafood. This "soup for the Cajun soul" can be made with crab, shrimp, crawfish, all three or in combination with each other. Most everyone use the term Bisque and Chowder interchangeably. However bisque is smooth, chowder is thick and chunky. Traditionally it's pieces of vegetables and seafood. It also usually includes milk, ...
Read more