Recipe Type:
Fish Crawfish Casserole is wonderful for a dinner party or family gathering. This recipe calls for fettuccini noodles but the last I ate it, chef had used bow-tie pasta and it was quite good. Ingredients2 to 3 lbs crawfish 2 bell peppers, chopped 1 onion, chopped 1 bunch green onions 16 ...
Read more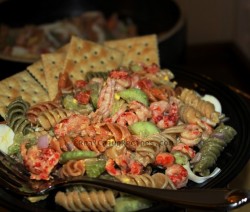 A great fresh tasting salad hot or cold – Super for a main dish. Ingredients1 lb cooked crawfish 1 small package of macaroni 2 tbsp pickled relish 1 small jar of chopped pimentos 1 cup chopped celery 1 cup chopped bell pepper 1 small onion, chopped 1 to 2 tbsp ...
Read more A fish stew made with the goo fish. The goo fish is the nickname for a freshwater drum; known as a gaspergou or sheepshead. This fish is similar to carp. Ingredients6 lbs goo fish, cut in large pieces 1/4 cup water 1 tsp salt 1 tsp black pepper 1 tsp ...
Read more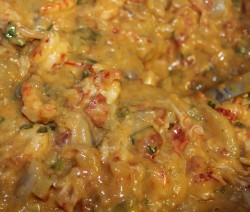 It only takes 20 minutes to prep and it's the BEST Dish I have cooked in a very long time!!! Ingredients4 cups finely chopped onions 2 cups finely chopped bell pepper 1/2 cup finely chopped celery 2 minced garlic 2 sticks butter 2 lbs crawfish tails with fat 4 tbsp ...
Read more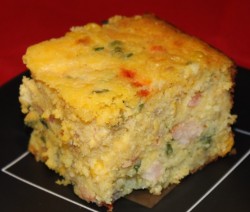 This is a delicious entree or side dish that's perfect for the Lenten season. Ingredients2 boxes Jiffy Corn Bread (or use your own, if you like) 1 cup butter (margarine) 1/2 cup chopped onions 1/2 cup chopped celery 1/2 cup chopped bell pepper 1/4 cup chopped green onions 1 (10 ...
Read more "Jambalaya and a crawfish pie and fillet gumbo… 'Cause tonight I'm gonna see my ma cher amio" Could this be the same crawfish pie in this "Jambayla" song? Ingredients3/4 medium bell pepper, chopped 1 large onion, chopped 2 ribs celery, chopped 3/4 cup butter 6 tbsp crawfish fat (optional) 1 ...
Read more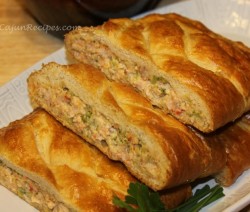 Crescent Rolls Stuffed with a Crawfish and Broccoli mixture.This "crawfish bread" at a party is a big hit. Easy to prepare and can be made with crab, shrimp or crawfish. Serve as an appetizer or as an entree. Ingredients1 package crawfish tails or cleaned shrimp (approximately 1 pound) 1 cup chopped ...
Read more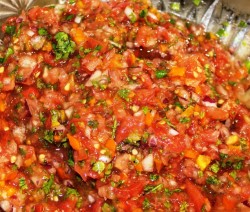 This variation of Mexican salsa substitutes the common ingredients (for the most part) for ingredients found in the Cajun pantry. You can make it hot or not! I fixed this salsa for my nephew's graduation and it was a success. If I had had more time to marinate, it would ...
Read more