Recipe Type:
Fish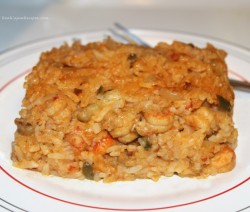 Congrats to the newlyweds, and authors of this recipe, Jessie and Jeremy Watson. The recipe is being posted as this is one of Jeremy's favorite from his mother-in-law's recipes. Ingredients1/2 cup butter or margarine 1 1/2 cup onion chopped 1/2 cup bell pepper chopped 1 can cream of shrimp or ...
Read more Baked lemon fish in a spicy tomato sauce topped with crabmeat. I learned how to cook this from my late aunt Teresa. I also added a little something to it. If you use the best white fish (cobia) this will take your breath away, ENJOY! PS. Any firm white fish ...
Read more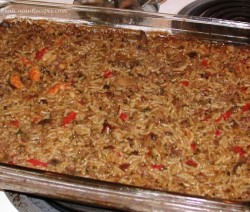 We Cajuns look & find anyway to cook a great meal. With this dressing you may add shrimp or crawfish. Ingredients1 pound ground beef 1 can cream of mushroom soup 1 can cream of celery 1 - 10 oz can French onion soup 1 beef boullion cube 1 cup raw ...
Read more Crawfish are plentiful in Southwest Louisiana, and are used in several different dishes. This particular dip may be served in small individual pastry shells. See recipe on site for the easy to make pastry shells. Ingredients1/4 cup butter 1 - 2 medium onion chopped 2 bunches shallots chopped 1/2 medium ...
Read more Once you have tasted this dish, you'll prepare it over and over. Editor's Note: Courtbouillon compliments the taste of almost any fish. Ingredients1 six pound fish 1/2 cup salad oil 1/4 cup flour 2 large onions sliced 21/2 cup canned tomatoes 2 chopped bay leaves 1/4 tsp allspice 4 green ...
Read more As a young child growing up, I remember on Friday's during Lent, my Dad would trade some of his farm goods for fresh shrimp. Mom would make us shrimp stew with fried shrimp balls. As with almost any shrimp dish, crawfish can be used instead. Ingredients2 pounds shrimp or crawfish ...
Read more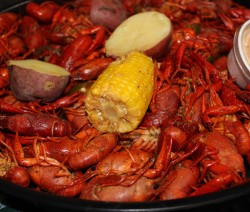 The crawfish boil is one the most popular Cajun meals. Cajun seafood boil seasonings (we love Slap Ya Mama's Seafood boil) do the trick to perfectly season crawfish. This recipe is for the times you don't have it or can't buy it. A neat addition to boiled crawfish is adding ...
Read more A very basic, classic and delicious sauce for virtually any type fish. Ingredients1/2 cup oil 1/2 cup flour 1/4 cup chopped onion 4 garlic cloves minced 1/2 cup chopped celery 2 cans No 1 whole tomatoes 1 bay leaf salt and pepper to taste Pinch of thyme and oregano (optional) ...
Read more