Recipes With Course:
Breads & Rolls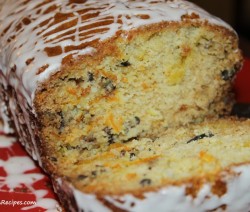 Wikipedia….Kumquat culinary uses include candying and kumquat preserves, marmalade, and jelly. Kumquats can also be sliced and added to salads. In recent years kumquats have gained popularity as a garnish for cocktail beverages, including the martini as a replacement for the more familiar olive. A kumquat liqueur mixes the fruit with vodka or other clear spirit. Cheers!! Ingredients2/3 cup milk2 beaten eggs2 ...
Read more Memories are made of this – Her Mom's Beulah Turner fig bread Ingredients1 1/2 cup flour1 1/4 cup sugar1 tsp baking powder1 tsp baking soda1 tsp cinnamon1 tsp nutmeg2/3 cup chopped pecans2 eggs1/2 cup cooking oil1/2 cup water1 cup fig preserves (blended -chopped)DirectionsStep 1Preheat oven to 350 degrees.Step 2Lightly grease ...
Read more Persimmon wood is very heavy and hard. It was once used to make golf clubs. Persimmon trees can take up to seven years before they produce fruit. Persimmons are used to make baked goods, such as cookies and breads. Source: producepedia.com Ingredients2 cups flour1 teaspoon baking soda1 cup sugar1/2 teaspoon ...
Read more Persimmons, the Latin word for it means "food of the gods." From eHow – Persimmon is an attractive tree with nutritional, sweet, autumn-ripening fruit that has been an old-fashioned favorite for homeowners in U.S. Department of Agriculture hardiness zones 5 through 11, depending on the variety. Persimmon trees fall into two distinct ...
Read more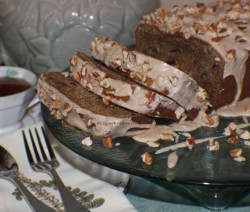 Freeze the persimmon pulp and make this bread anytime! Ingredients1 cup persimmons pulp1 cup brown sugar2 tablespoon oil2 cups all-purpose flour1/2 cups raisins1 egg1 teaspoon baking powder1 teaspoon baking soda1 teaspoon salt1 cup chopped nuts - Choice of pecans - walnuts - hickory nutsDirectionsStep 1Combine persimmon pulp, brown sugar, oil ...
Read more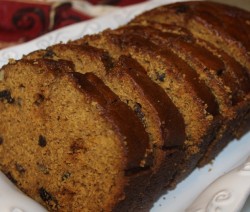 A classic pumpkin bread from C&H Sugars. So easy to prepare; turns out real easy – with a flavor that is as good and American as apple pie. Ingredients1 cup dark brown sugar firmly packed1/2 cup granulated sugar1 cup cooked or canned pumpkin1/2 cup salad oiil2 eggs unbeaten2 cups sifted all-purpose flour1 ...
Read more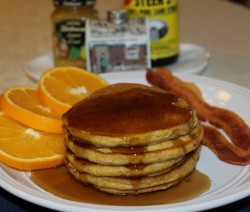 Happy Halloween!!! Giant pumpkins can be grown for competitions, with some weighing over 1000 pounds!  In 2010, the world record was 1810 pounds! That's huge according to sciencekids.com!  As a food, pumpkin can be baked, roasted, steamed or boiled or made into pancakes! You can make scratch pancakes for this ...
Read more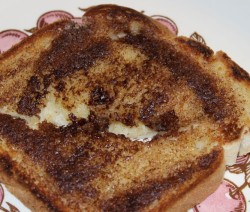 A simple recipe that packs in the memories.I can still remember the smell making these for my children right before school or as an afternoon snack. IngredientsSliced Bread2 teaspoon cinnamon1/2 cup sugarbutterDirectionsStep 1Combine the sugar and cinnamonStep 2Lightly butter each slice of breadStep 3Sprinkle the cinnamon and sugar mixture over ...
Read more