Recipe Type:
Cake Ingredients3 cups sugar1 cup melted butter4 eggs6 tablespoons half-and-half2 teaspoons vanilla1/2 teaspoon salt1 teaspoon baking powder2 cups mashed bananas, ripened3 cups flour2 cups pecans, choppedDirectionsStep 1Mix butter, eggs, half-and-half, vanilla, and bananasStep 2Add dry ingredients and nuts, mix wellStep 3Spray loaf pan with Pam then pour ingredients into panStep 4Bake ...
Read more Ingredients3 cups fresh blackberries2 cups sugar1 cup flour1 egg1 stick butter, melted1 teaspoon vanilla1 teaspoon baking soda1 teaspoon baking powder1 teaspoon saltI teaspoon vanillaDirectionsStep 1Wash berries then place on paper towel in 9 x 13 pan to drainStep 2Combine sugar and remaining ingredients, mix wellStep 3Spread mixture evenly over blackberriesStep ...
Read more Perfect for cakes and sweet dough tarts! Being from a large family, we loved when Momma made her German chocolate cake. The kids would fight to lick the spoon. Ingredients1 cup sugar1 block butter3 egg yolks 1 1/4 cup evaporated milk1 tsp vanilla ( I only use Big Chief) 1 ...
Read more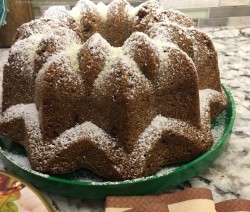 Crunchy and Different and Absolutely Delicious Ingredients2 cups sugar3 cups flour1 teaspoon soda1 teaspoon salt1 teaspoon cinnamon1 1/2 cups Wesson oil3 eggs1 teaspoon vanilla3 cups chopped red apples - do not peel1 cup chopped nuts Powdered sugar for dustingsweetened whipped cream optionalDirectionsStep 1Sift together dry ingredientsStep 2Add oil, eggs and ...
Read more Make your own pumpkin puree for this recipe – Preheat oven to 325 degrees F (165 degrees C). Pie pumpkins would be great to use  – Cut the pumpkin in half, removing the seeds and pulp. Place face down on a buttered or greased cookie sheet. Bake in the preheated oven ...
Read more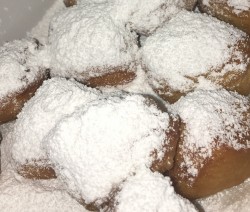 Beignets made the old fashioned way without yeast. This method is as simple as making a batter and spooning into the hot oil. OLD FASHIONED BEIGNETS are wonderful and considering how little work they are to put together, they are a real treat and make there own pattern when dropped. ...
Read more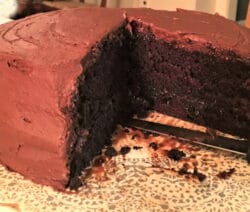 This recipe actually serves 12-16 depending on how much you are willing to share! The secret ingredient, as odd as it may sound, is mayonnaise. The mayo replaces the oil normally used in a cake recipe, which also makes it less fattening. It also makes the cake so moist and ...
Read more