Recipe Type:
All Poultry A classic Sunday dish. Ingredients3 - 4 pound hen oil for browning 2 large onions 4 medium garlic cloves, chopped fine 1 large bell pepper, chopped 2 - 3 bay leaves 1 can tomato paste 1 tsp sugar 1 large can of mushroom and juice 1 small jar of olives ...
Read more This was a special request recipe find. Ingredients1 tbsp butter 2 tbsp olive oil 1/2 cup chopped onion 2 cloves garlic, minced fine 4 boneless and skinless chicken breast halves 1/4 cup chicken broth 1/4 cup bourbon whiskey Salt and black pepper to tasteDirectionsStep 1In a large skillet, melt the ...
Read more A rich and creamy tasting bourbon chicken recipe. Ingredients4 boneless and skinless chicken breast halves 1 can cream of chicken soup 1 can cream of celery soup 2/3 cup shredded mozzarella cheese 1/2 cup melted butter 1 1/2 cup dry bread crumbs 1/3 cup bourbon whiskey Salt and pepper to ...
Read more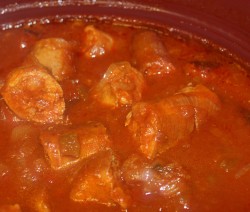 An old time classic. Simple but filling. Ingredients1 package fresh sausage - turkey, chicken or other 2 tbsp vegetable oil 1 cup water 1 onion, chopped 1 bell pepper, chopped (optional) 1/2 cup ketchup or tomato sauceDirectionsStep 1In a heavy duty skillet or cast iron pot, heat the oil. Add ...
Read more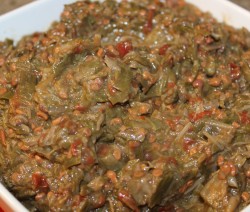 This is a classic way of cooking okra that allows you to use okra (la gombo fevi)  as a side dish or make the ever popular shrimp and okra gumbo. Ingredients3 pounds fresh or frozen okra 3 tbsp canola oil 1 cup chopped onion or 1 large onion 1 cup ...
Read more Ingredients8 boneless chicken breasts 2 eggs, beaten 1/4 cup water Season all, black pepper, onion and garlic powder all to taste Parmesan cheese Breadcrumbs or Panko Bread Crumbs 1 lb shrimp, cut in pieces 2 small onions, chopped fine 1/2 cup margarine or butter 1/4 cup sherry or chicken broth ...
Read more Ingredients Ingredients1 chicken or turkey carcass 2 carrots, sliced into coins 1/2 small onion, chopped 1 stalk of celery with leaves 1 tbsp Wyler's Chicken Granuels 1/2 cup of your favorite dry pasta Salt and pepper to taste Garlic powder to taste 1/4 cup parsley, chopped 1 cup leftover (cooked) ...
Read more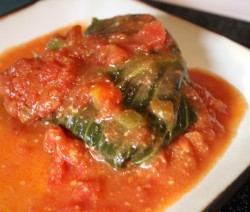 Ingredients1 cabbage, large 1/2 lb ground beef 1/2 lb ground pork 1/2 cup rice, raw 2 (8 oz) cans tomato sauce 1/2 cup water 1/3 cup lemon juice 1 onion, chopped 2 eggs, beaten 1 (10 oz) can Rotel tomatoes 1 bell pepper chopped salt and pepper to tasteDirectionsStep 1Boil ...
Read more