Recipe Type:
All Poultry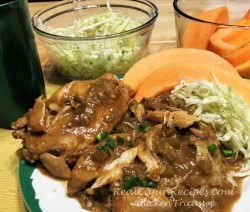 Cajuns love to get together and play cards games like booray (bouree) and euchre. While you fix this dish shuffle yourself a hand of Louisiana cards and play while it bakes. This dish is so easy and great for small dinner card games or any party or gathering. Taste so ...
Read more Most season a turkey only on the outside of the skin. The trick for better flavor is to season the turkey breast underneath the skin. This method imparts the flavor throughout the breast meat. Ingredients1 turkey breast 6 to 7 pounds 2 hatch peppers or 1/2 bell pepper 1 jalapeno ...
Read more My husband and I love turkey meat. Our supermarket has ground turkey at such bargain prices I decided to make my stuffed bell peppers with it and then ended up using products in our pantry to complete the ingredients. This is an original recipe and is simply delightful. Ingredients1 1/2 ...
Read more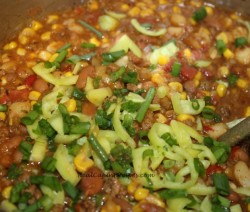 The flavor is tremendous and the ease of preparation surprising. Ingredients1 (15 oz) can Ranch Style Beans with Jalapeno onions (with liquid) 1 (15 oz) can Golden Hominy and/or Black Beans (with liquid) 1 (15 oz) can Whole Kernel Corn (with liquid) 1 lb ground meat 1 (10 oz) can ...
Read more There are so many ways that you can cook chicken. This dish was a classic dish prepared by the ole' Cajun farmers wives when the workers and her husband came out of the fields. Ingredients1/4 cup flour 3/4 tsp salt 1 cup milk 3 tbsp butter or margarine 2 cups ...
Read more Extra chicken and no idea as to what to serve for a different kind of breakfast? This recipe will serve the bill and reap you ooh's and ahhh's and c'est si bon chere! Ingredients1 1/2 cups diced chicken 3 tbsp flour 1/2 tsp salt 1/8 tsp black pepper 1 cup ...
Read more This is a quick and easy stuffing for your baked chicken. Ingredients2 1/2 cups white day old bread crumbs 1/2 tsp finely chopped onion 3 tbsp finely chopped parsley 1 tsp poultry seasoning 1/2 tsp salt 1/8 tsp pepper 3 tbsp melted butter or margarineDirectionsStep 1Crumb bread into small pieces. ...
Read more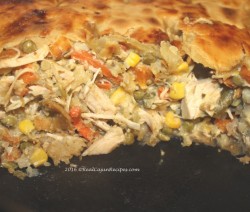 One of the best chicken pies you will ever eat. If you are ever in Breaux Bridge, LA, stop and get a piece of this delicious dish. If you cant stop there, make one today Ingredients2 large chickens 7 tbsp flour 2 (9 inch) pie shells 3 medium onions, chopped ...
Read more