Recipe Type:
All Poultry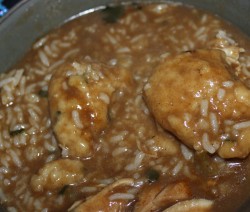 I like to spoil my grandchildren; I knew this was my granddaughter's favorite dish so I would cook it for her when she came. Here is a secret that neither she nor my daughter knows. Well you see neither of them like celery and some of my other grandchildren do ...
Read more With an ever increasing interest in the reduction of excess fat in our daily diets, the Cajuns are no exception. This recipe (Original, cooked in Hitachi rice cooker) has been modified to reduce the fat content; both the modified versions of cooking in a rice cooker and stovetop are shown. ...
Read more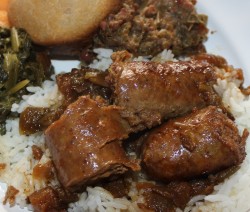 One of the most constant classic dish that Cajuns enjoy – rice and gravy! A family favorite. Ingredients1 package fresh sausage- pork, beef, venison, turkey, chicken 1 onion chopped 4 cloves garlic finely minced 2 tbsp oil 2 cups rice 2 tsp salt red pepper to tasteDirectionsStep 1Cook rice according ...
Read more This is a stew made like chicken fricassee; you just add baby lima beans. Very tasty. My grandmother made it all the time. She just made it spicier than I would. But then I loved her spicy food. Ingredients2 whole chickens cleaned and cut 2 large onions chopped 2 tsp ...
Read more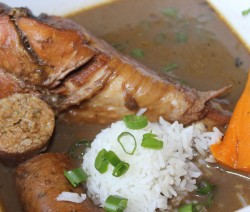 This gumbo is a favorite of my family. My aunt taught me how to make it. Editor's Comment: Andouille Sausage in a dish is used as flavoring agent. Ingredients1 whole cut up chicken 1 large onion 1 link of Andouille sausage 1 link of smoked sausage 1/4 cup cooking oil ...
Read more This is great to have for parties, social events, or just anytime like we do. You can make these as appetizers. If you really like spicy foods just let each batch simmer in sauce until the next batch is ready to come out. If you like mild foods then just ...
Read more Have you ever heard of the dish called gumbo "vert' vah? If you have not, this is a dish with spinach cooked with ground meat or ground turkey. My kids love it and request it alot. Some people can't get over how they ask for it. My grandmother used it ...
Read more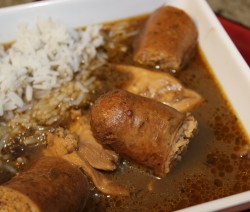 This gumbo is a favorite of my family, my aunt taught me how to make it. Ingredients1 large chicken cut up 1 large onion 1 link Andouille sausage 1/4 cup cooking oil 2 large spoons flour 1 bunch scallions green onions 2 tbsp file' 1 link smoked sausage salt, black ...
Read more