Recipe Type:
All Poultry A dressing made form sweet potatoes. My grandmother use to stuff her turkey with this dressing. Great for your holiday cooking. Ingredients1 pound sweet potatoes - about 3 mediums 1 tsp salt divided 1/4 cup plus 2 tablespoon Shortening or Butter Flavor stick divided 1 cup chopped celery 1/4 cup ...
Read more Dem Cajuns gotta watch what they eat sometimes. So dey have to do like everybody else and try dat Atkins. This dish is very Atkins friendly at 5 net grams of carbs per serving and is very filling. Ingredients10 ounces frozen chopped broccoli 4 cups cooked chicken 1 can condensed ...
Read more Louisiana known as Sportsman Paradise is popular for wild duck, goose and wild game hunting. If you get lucky enough to have wild game for dinner use this marinade; it works great for rabbits and squirrels too. If you find yourself without anything on hand, fill a container with ice ...
Read more Although my sister and I use to fight for the chicken wing, wings were once thought of as the most useless piece of a chicken worthy only of the stock or soup pot. Nowadays, hot chicken wings are all the rage as appetizers and party fare. Originally gaining their fame ...
Read more Here is a jambalaya that your family can enjoy. It has lots of flavor, veggies, and low-fat meats! Ingredients1 package low-fat sausage 1 package boneless skinless chicken breast 1 celery stalk, chopped 2 small onions, chopped 4 cloves of garlic, chopped 1 bunch green onions, chopped 1 green bell pepper, ...
Read more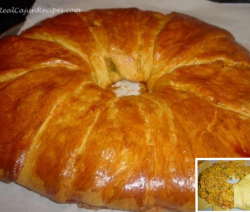 The author is a great Cajun cook and is always conjuring up recipes. Although, she has more choices, she mixes a lil of this and a lil of that just like our mothers and grandmothers did. Ingredients3 cans crescent rolls or puff pastry, cut in triangle crescent size 1 onion, ...
Read more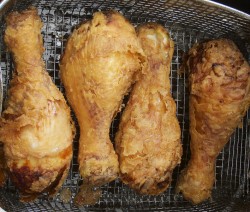 Everyone knows it is so much easier to just run out and buy fried chicken. However sometimes you are somewhere where it is not possible. Here is a great recipe for those times; like when you are camping or at the camp duck hunting. Ingredients12 chicken legs and thighs 1/2 ...
Read more Here is the best use for your beer can. Cook your chicken with it. This Cajun Drunken Chicken seasoned with crab-crawfish-shrimp-boil seasoning is sure to be a crowd pleaser. The steam from the beer helps keep the chicken moist. Ingredients1 chicken fryer 4 - 5 pounds 1/4 can beer - ...
Read more