Recipe Type:
All Poultry Maque Choux is a Cajun dish made with corn, cream, bell peppers and tomatoes. It makes a good accompaniment to ham and chicken and is even good for breakfast served with bacon. In this recipe it is used to "smother" sautéed chicken. Ingredients1/3 cup canola oil 1 chicken cut into ...
Read more Ingredients4 chicken breasts 1 (10 oz) can cream of chicken soup 2 packages crescent rolls 1 cup shredded Mexican Cheese 1 tbsp chili powder 1/2 tsp cumin 1/2 tsp black or red pepperDirectionsStep 1Cut up the chicken into small pieces. Brown in a small pot on top of the stove. ...
Read more Some cooks recommend lightly salting cut up eggplant and letting it stand for 15 to 30 minutes before rinsing, drying and cooking to reduce characteristic bitterness. The vegetable may be broiled, pan-fried or baked along with olive oil, tomatoes, peppers and fresh herbs and spices. Here chicken and bacon, two ...
Read more With the big rage for frying turkeys, this recipe fits the bill to stuff (inject) your holiday turkeys or any meat that you can deep fat fry or bake. Ingredients1/2 small bottle of liquid crab boil 1/2 large bottle of lemon juice 10 shakes of Tabasco Sauce 2 tbsp onion ...
Read more This is my mom's shortcut recipe for Chicken and Dumplings. I have absolutely loved this since I was a kid! Ingredients1/2 small white onion 1 green bell pepper 1 tbsp olive oil or butter 3 - 4 tbsp roux 1 cup water 1 packet brown gravy mix 4 frozen biscuits ...
Read more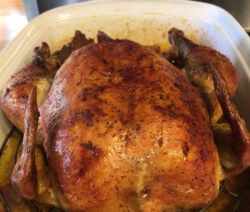 This recipe turns out a roasted chicken almost as good as my Mom's. Ingredients1 large roasting chicken 4 tsp salt 2 tsp paprika 1 tsp cayenne pepper 1 tsp onion powder 1 tsp thyme 1 tsp white pepper 1/2 tsp garlic powder 1/2 tsp black pepper 1 large onion, quarteredDirectionsStep ...
Read more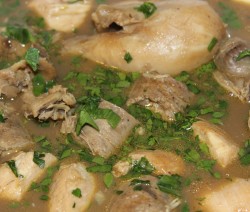 Gumbo 101 – A step by step of making a gumbo. Ingredients3/4 cup vegetable oil (canola) 1 cup flour 1 cup chopped onions 1 cup chopped celery 1 cup chopped bell pepper 3 cloves garlic, diced 3 quarts water or chicken stock made with Wylers Chicken Granules (optional) or chicken ...
Read more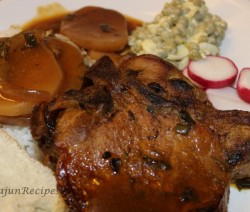 A casserole that's yummy and easy to cook. Makes the best gravy. Ingredients4 - 6 pork chops 2 potatoes 2 tsp black pepper 2 tsp onion powder 2 tsp Cajun spices (Tony Chachere's or Slap Ya Mama) 1 onion, sliced 1 (10 oz) can golden cream of mushroom soup 1/4 ...
Read more