Recipe Type:
All Poultry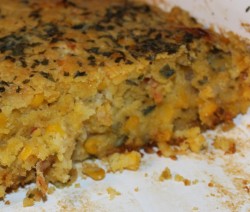 Mouth-watering Caj-Mex Cornbread that can be a meal in itself or as a side dish. Ingredients2 boxes jiffy cornbread mix 2 eggs 2/3 cup milk 1 pound ground beef or crawfish 1 medium onion, chopped 1 small bell pepper, chopped 1 jar sliced mushrooms 1/2 bag shredded Mexican cheese 1 ...
Read more Mawmaw tried this recipe from Jack Miller's website. It seems almost every child growing up and playing baseball grew up eating Jack Miller's Ball Park Hamburgers; that same sauce is used in this recipe. Ingredients1 fryer quartered 3 to 5 potatoes sliced 1/2 inch thick 2 to 3 raw carrots ...
Read more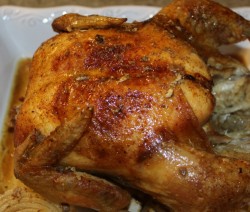 A great recipe for baking chicken! Broiler-fryers, roasters, stewing/baking hens, capons and Rock Cornish hens are all chickens. Ingredients1 frying chicken 3/4 cup flour 1 1/2 tsp salt 1/4 tsp pepper 1/4 tsp garlic salt 1 1/2 tsp paprika 1/4 cup butter or margarine 1/4 cup shortening 1/4 cup butter ...
Read more This is a quick chicken cornbread casserole, that's easy to make. Ingredients4 cups crumbled corn bread (I use two boxes of Jiffy) chopped onions, celery, bell pepper to taste 1 1/2 cup chopped chicken 1 can cream of chicken soup 1 1/2 cup chicken broth 1 cup grated cheese of ...
Read more I found this recipe on the net, but I tweaked it to fit my family's likes. Great side dish with baked chicken. Ingredients1 box Chicken in a Biskit crackers, crushed 1/2 cup margarine, melted 1 package frozen broccoli thawed and drained 1 can whole kernel corn, drained 1 can cream ...
Read more This recipe maybe made with tame or wild duck. Ingredients1 to two or more duck(s) of choice 1/2 cup oil (butter optional for more flavor) 1/2 cup flour 1 large onion chopped 1 small bell pepper chopped 1 to 2 ribs of celery chopped 3 pods of garlic finely minced ...
Read more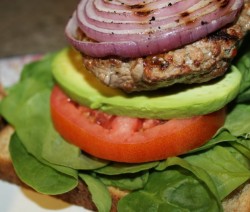 These are the best burgers I've ever eaten. My sister Wanda has been making these for as long as I can remember. My 12 year old recently had one of hers and suggested that I make them at home. I did; and we've agreed that Wanda's are better. Ingredients1 pound ...
Read more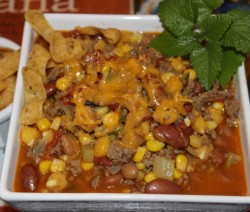 I usually cook this on Sundays before a Saints game. It's a crowd favorite — the ladies love it! A visitor posted that this soup freezes really well! Ingredients2 pounds ground beef 2 15 oz cans kernel corn (undrained) 2 15 oz cans pinto beans (undrained) 2 15 oz cans ...
Read more