Recipe Type:
All Poultry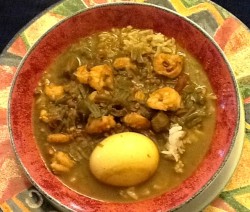 In 1973, the Louisiana Governor issued a proclamation naming Bridge City, "The Gumbo Capital of the World". The 2006 GUMBO FESTIVAL festivities begin on Friday, October 13th, and continue on the14th and 15th. Located on the west bank of the Mississippi River directly across the Huey P. Long Bridge from ...
Read more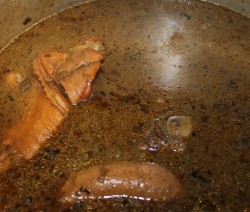 This fresh hen gumbo will have you wanting to lick the bowl! Ingredients1 hen, cut up 1 tbsp Creole/Cajun seasoning 2 tbsp olive oil 2 cups onion, chopped 1 cup celery, chopped 1 cup green bell pepper, chopped 2 tbsp garlic, minced 3/4 cup dark roux 1 (32 oz) can ...
Read more Marinades are used to neutralize the game flavor in ducks and wild game. I have used several marinades, including the basic Italian Dressing, but I find this one to be exceptional. Ingredients2 cups dry wine 1/2 cup soy sauce 1/4 cup balsamic or red wine vinegar 1/4 cup vegetable oil ...
Read more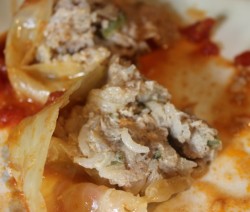 Cabbage is often prepared by boiling, usually as part of soups or stews similar to borscht (beet soup). Boiling tenderizes the leaves, and releases sugars, and develops the characteristic "cabbage" aroma. Ingredients1 1/2 pound ground beef 1 large onion 1/2 medium bell pepper, chopped 2 celery ribs, chopped 1/2 cup ...
Read more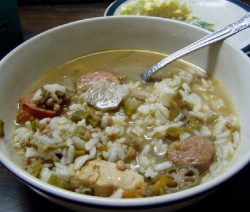 "As a little girl, I used to sit in my Granny's kitchen in Lafayette and watch her chop the veggies for this fabulous gumbo. It's very filling, and for me, it's the ultimate comfort food. It's made with a lighter roux, and the spice can be adjusted with a little ...
Read more As the Fourth of July approaches, it's time once again time start planning how to celebrate our nation's freedom. For a backyard barbecue with a twist, consider serving a turducken with red, white and blue stuffings. A turducken is simply a turkey that is stuffed with a duck that is ...
Read more ROTEL brand tomatoes and chilies are a very popular staple in Southwest Louisiana. That brand of tomatoes is used in so many Cajun dishes, that many of us just say, "Add the Rotel." Rotel is a 10 oz can of diced tomatoes and green chilies, packed in its own juice. ...
Read more One of our more "Guilt-Free Cajun Creations" Our author writes, "This is another one of my somewhat Heart-Healthy recipes. There are a few open markets here in Kansas City, and one day, while walking through the famous City Market, I stumbled upon a vender selling the odd combination of spinach ...
Read more