Recipe Type:
All Poultry Excellent as side dish with any meat or as a main dish served with vegetables. This recipe was adapted from a recipe that traditionally uses pork.
Read more Cooking is a labor of love, and certainly the time to create our celebrated regional cuisine takes time and effort. The recipe below will make you the most incredible dirty rice imaginable. Yes, it's time consuming but Voilà ! Qu'un differnece. This dish will feed a small army.
Read more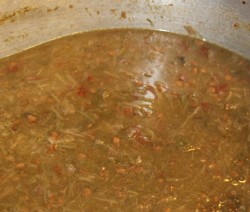 The cook shares – I find most gumbo recipes to watery for my taste. So I loaded this one up with a bunch of stuff – chicken, smoked sausage, shrimp and okra. I use a dark roux, which doesn't thicken the gumbo as much as a light one. Therefore the okra ...
Read more This dip tastes JUST like Buffalo wings! The recipe provides a mild kick, but you can make it as hot or mild as you want. My friends can't stop eating it when I bring it to parties.
Read more This is a sorta spicy, warm, filling soup that is great on those chilly winter nights here is Louisiana
Read more A delicious and different way to make duck, particularly good for duck season!
Read more