Recipe Type:
All Poultry My friend's mom used to make these for us we were in high school. They were our favorite! Since we are all grown and moved out, we don't see each other very often. So, out of the blue, I called her and she gladly gave me her recipe. I didn't ...
Read more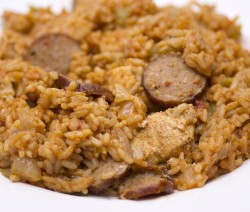 Jambalaya, a Cajun/Creole dish, is perhaps the most versatile main dish that Louisiana has to offer. The most important thing with this dish is to use the right equipment; any heavy bottomed cast iron pot or Dutch oven. Ingredients1 pound Andouille (Cajun) or mild smoked pork sausage, sliced 1/4-inch thick ...
Read more Excellent as side dish with any meat or as a main dish served with vegetables. This recipe was adapted from a recipe that traditionally uses pork. Ingredients2 pounds ground turkey, ground sirloin beef or pork 2 to 3 large egg plants, peeled & cubed 1 large yellow onion, chopped 1 ...
Read more Cooking is a labor of love, and certainly the time to create our celebrated regional cuisine takes time and effort. The recipe below will make you the most incredible dirty rice imaginable. Yes, it's time consuming but Voilà ! Qu'un differnece. This dish will feed a small army. Apprécier ce ...
Read more I've always loved pastalaya. Ingredients1/4 cup plus 3/4 teaspoon salt, divided 1 pound dry penne 3 tbsp olive oil, divided 1 pound peeled, deveined large shrimp 2 tbsp plus 1 teaspoon Creole Seasoning (Tony's) 3/4 pound boneless, skinless chicken breast, 1-inch diced 3/4 pound andouille sausage, diced into 1/2-inch pieces ...
Read more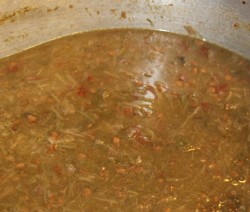 The cook shares – I find most gumbo recipes to watery for my taste. So I loaded this one up with a bunch of stuff – chicken, smoked sausage, shrimp and okra. I use a dark roux, which doesn't thicken the gumbo as much as a light one. Therefore the okra ...
Read more This dip tastes JUST like Buffalo wings! The recipe provides a mild kick, but you can make it as hot or mild as you want. My friends can't stop eating it when I bring it to parties. Ingredients2 (8 oz) bricks of Cream Cheese (softened) 3/4 cup Frank's Red Hot ...
Read more This is a sorta spicy, warm, filling soup that is great on those chilly winter nights here is Louisiana Ingredients3-4 baking potatoes: washed, peeled and quartered 1 yellow onion, chopped 1 large bell pepper, chopped 3 cloves of garlic, chopped 1-2 stalks of celery, chopped 4-5 fresh carrots, sliced 1 ...
Read more