Recipe Type:
All Poultry A slightly spicy and simple dish. Ingredients3 to 4 skinless chicken breasts 1 onion, sliced 1 bell pepper, sliced 2 tbsp Kitchen Bouquet or Carmel Color 1 (8 oz) bottle Italian Dressing 1 cup water Black and red pepper to tasteDirectionsStep 1Spray inner pan of rice cooker with Pam. Then ...
Read more A delicious and different way to make duck, particularly good for duck season! IngredientsDuck breast 1 can water chestnuts Fresh sliced jalapeños 1 pound bacon Soy sauce Spicy mustard Lea and Perrin steak sauceDirectionsStep 1Cube duck and cut the bacon slices in half. Season duck to taste. Step 2 Roll ...
Read more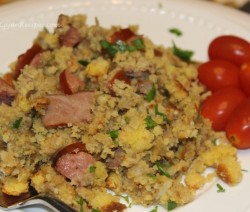 A great casserole made without rice. An eggplant casserole made without rice that can be eaten as cooked, or used for stuffed bell pepper or for delicious cornbread dressing. Ingredients6 to 8 eggplants Breadcrumbs 1 onion, chopped 1 bell pepper, chopped 2 celery stalks, chopped 1/2 - 1 pound ground beef ...
Read more Merliton is also known as chayote, custard marrow, christophene, chouchoute and mango squash. For all these exotic names, this is simply a type of squash family, made particularly yummy in this recipe. Ingredients8 -10 merlitons 3 tsp to 4 butter or margarine 1 onion, chopped 1 bell pepper, chopped 2 ...
Read more Ingredients2 pounds ground turkey meat 2 (16 oz) cans diced tomatoes, undrained 2 (15 oz) cans kidney beans, undrained 2 (8 oz) cans tomato sauce 1 large chopped onion 6 tbsp Chili Powder 1/4 tsp crushed garlic or 2 cloves 1/4 cup cooking sherry 1 large bell pepper 1 tbsp ...
Read more The secret to this gumbo is the roux! Always use warm to hot water to dissolve the roux. While you're at it, make extra roux as it keeps well in or out of the refrigerator. Ingredients1 onion, finely chopped 1 large red tomato, chopped 3 cups chopped celery 1 package ...
Read more To get this recipe, I had to beg and rely on a memory! Kaplan's finest and some older softball players, the Jr Bucs and Lady Bucs, recently reunited. This pasta dish was one of the the "hits" of this baseball reunion. The cleats and gloves that had been hung up ...
Read more You will be using a BBQ pit for this dish! Crab boil makes the flavoring difference in this chicken. We think this chicken can compete in flavor with KFC Chicken! Buy an extra case of beer (Drink Responsibly) to treat the cook or better yet Kiss the Cajun Cook – ...
Read more