Recipe Type:
All Poultry The author writes – This is a recipe that I have modified from baked chicken to turkey. It is very moist, and very tasty. It is self- basting as you will see from the recipe instructions. There will be a transfer of smoked flavor from the bacon into the turkey. ...
Read more This recipe's author, Mike, writes: My great great grand mother taught me how to cook on a wood fired stove and I have been hooked ever sense. I spent the last 2 fall seasons in Alaska on a jut of land on the Bering Sea cooking for a duck guide. ...
Read more This is a shortcut chicken and dumplings recipe. If you'd like to make the dumplings yourself, check out our homemade dumplings recipe.
Read more No Cajun wedding reception is complete without a wonderful food, booze (drink responsibly), and the "Chicken Dance" song. While often placed firmly on the "do not play" list along with "YMCA" and the "Macarena," the song about flapping your wings like a silly bird still sneaks onto the set list ...
Read more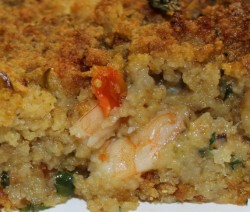 Enjoy this fun information on LA seafood: in a blind taste test, consumers chose Louisiana oysters over others sold in the US 85% of the time. Cajuns will chose it 100% of the time. Fried Oyster or Fried Shrimp compliment this dish.
Read more Dirty Rice gets its name from the rice looking "dirty" after the dish is complete. The chicken giblets give this dish its unique flavor.
Read more Giblets used in this recipe typically include the heart, gizzard, and liver.
Read more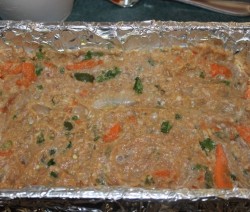 This is a semi-spicy Cajun meatloaf that calls for Everglade Seasonings which is also known as Monkey Dust. It is made of salt, spices, monosodium glutamate, dehydrated garlic and onion, sugar, and papain.
Read more