Recipes With Course:
Soups & Salads This is my boyfriend's favorite – he's a Cajun, born and raised in Broussard, La. Ingredients2 pounds medium shrimp 1 pint heavy whipping cream 1 pint half & half 2 sticks butter 2 cans chicken broth 2 tbsp Tony's Cajun seasoning 2 drops red food coloring salt & pepper to ...
Read more A delicious, spicy soup with a delightful after taste! Ingredients5 pounds of beef (any kind will do but I prefer sliced roast beef or prime rib) 4 of frozen mixed vegetables 10 cloves of garlic 5 tbsp black pepper 2 tsp white pepper 2 cups of dry red wine 1 ...
Read more Ingredients1 pound small shrimp 1 (12 oz) bag rainbow rotini pasta 1 package Ranch Dressing Mix 1/2 cup mayonnaise 3 stalks celery 2 cucumbers 2 tomatoes Seasonings to tasteDirectionsStep 1Boil shrimp in seasoned water (about 2 minutes after water is boiling) and drain. Boil pasta, drain and set aside. Step ...
Read more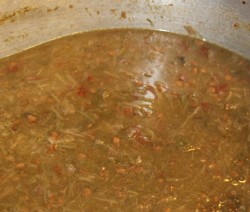 The cook shares – I find most gumbo recipes to watery for my taste. So I loaded this one up with a bunch of stuff – chicken, smoked sausage, shrimp and okra. I use a dark roux, which doesn't thicken the gumbo as much as a light one. Therefore the okra ...
Read more So deliciously rich and satisfying – just like Momma use to make. Ingredients4 sticks butter 3 cups chopped corn 1 cup chopped bell pepper 1 cup chopped celery 3 cups chicken broth 3 cans corn or 6 ears fresh corn 2 large cans evaporated milk 2 pounds crab meat 2 ...
Read more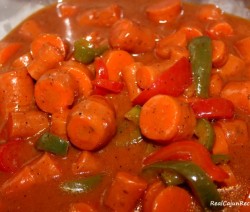 Also known as copper pennies, this makes a very good side dish with your main meal especially roast. Great for parties too! Ingredients2 Bunches (packs) of Carrots 1 Bell Pepper, cut into strips 1 can Cream of Tomato Soup 1 tbsp Worcestershire Sauce 1 tbsp Salt 1 tbsp Black Pepper ...
Read more Ever wonder what to do with all the leftovers from your last crab/shrimp/crawfish boil? This is a great recipe to try. Ingredients1 can Cream of Mushroom Soup 1 can Cream of Onion Soup 1 can Southwest Pepper Jack Cheese Soup 1/2 box Velveeta Cheese-Chunked (Large Box) 1 quart Half & ...
Read more This is a sorta spicy, warm, filling soup that is great on those chilly winter nights here is Louisiana Ingredients3-4 baking potatoes: washed, peeled and quartered 1 yellow onion, chopped 1 large bell pepper, chopped 3 cloves of garlic, chopped 1-2 stalks of celery, chopped 4-5 fresh carrots, sliced 1 ...
Read more