Recipes With Course:
Soups & Salads Ingredients1 (15 oz) can kidney beans 1 (15 oz) can butter or lima beans 1 can pork and beans 1/2 cup brown sugar 1/3 cup catsup Dash of soy sauce or Worcestershire sauce 2 tsp mustard 1/2 cup finely chopped celery 1/4 cup finely chopped onion 1/4 tsp black pepper ...
Read more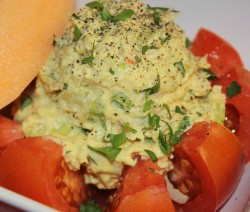 Most Cajuns follow the tradition of not eating meat on Friday during the Lenten season. This recipe would be great for Lent. Donald writes, "Dakota is the great-grandson of Isadore Delcambre, This is 8 yr-old Dakota's, 1st easy to make lunch recipe. This salad should be served on your favorite ...
Read more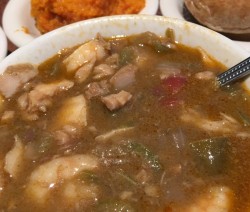 You don't have to be Cajun to make gumbo anymore. Gumbo Mix can help you out when you need it. Gumbo mix is a retail item off your grocery shelf. Add your own fresh sausage, seafood or chicken and serve over rice. This is a good Cajun gumbo, with much ...
Read more A wonderful, rich and thick hot chowder for those chilly nights. And who can pass up a good crawfish dish? Ingredients1 pound crawfish tails, peeled 12 oz bacon 2 cups potatoes, diced 1 cup onions, diced 2 (16 oz) cans cream style corn 2 pints Half & Half (or whipping ...
Read more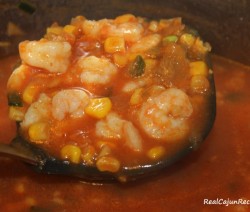 A Cajun classic made with two favorites  –  shrimp and corn, Ingredients1 cup onions, chopped 1/2 cup bell pepper, chopped 1/2 cup green onion, chopped 1/2 cup oil 1 to 2 pounds shrimp, peeled & deveined 1 small can tomato paste 3 cups water 2 (16 oz) cans whole corn ...
Read more Flavorful is the word for this dish similar to macque choux (shoo). Great with fresh corn (that has been pre-cooked) also. Ingredients2 cans (16 oz) whole kernel corn drained 1 (8 oz) cream cheese 1 can (4 oz) green chilies, chopped 1 tbsp margarineDirectionsStep 1Combine ingredients in sauce pan and ...
Read more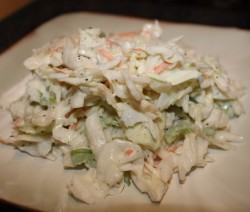 Cole slaw seems to go with any Cajun dish. A little imagination was used in preparing this slaw dressing. My husband likes sugar and I like vinegar and salt so I combined our different tastes and came up with this dressing. Ingredients1/2 green pepper chopped fine 1 tsp salt 1/8 ...
Read more Robin says: "This soup my grandmother made all the time. I use to love it. Just thinking about it I will have to make some :o)" Ingredients2 pounds peeled shrimp 1 large onion sliced 5 medium potatoes 1 can biscuit dough or homemade biscuits 2 tbsp cooking oil salt, black ...
Read more