Recipe Type:
Pork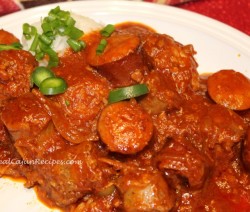 **A spicy red gravy for pork sausage that goes extremely well over rice** This dish can be made with all fresh sausage or all smoked sausage. Get me a slice of bread I am cleaning my plate. No V-8 – No problem use tomato sauce. . Ingredients1 pound to 1 ...
Read more "Blackened" food, while not traditionally Cajun, was created by Cajun chef Paul Pruhomme in the mid-1980s. According to CajunCulture.com this new invention "sparked a worldwide Cajun food craze" This recipe is a basic Cajun (brown) jambalaya; the difference is the chicken is blackened and added at the end so there ...
Read more The spices in this recipe are perfect; garlic always seems to compliment the pork flavor. Ingredients1 whole slab pork ribs 4 tbsp garlic salt 2 tbsp Cajun seasonings crushed red pepper flour peanut oilDirectionsStep 1Season ribs on each side with Cajun seasonings, garlic salt and crushed red pepper. Marinate for ...
Read more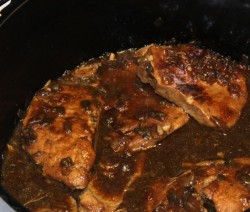 I have seen my mom make rice and gravy many times. I got really hungry for some and she was not around; so I followed my instincts and made this delicious dish. The pork was really tender and the gravy was excellent. I commented at the table how Mom would ...
Read more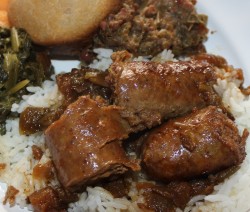 One of the most constant classic dish that Cajuns enjoy – rice and gravy! A family favorite. Ingredients1 package fresh sausage- pork, beef, venison, turkey, chicken 1 onion chopped 4 cloves garlic finely minced 2 tbsp oil 2 cups rice 2 tsp salt red pepper to tasteDirectionsStep 1Cook rice according ...
Read more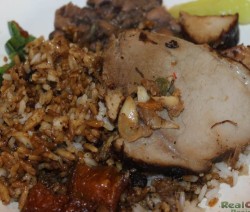 The smell of this roast cooking will make your mouth water and the whole house smell just like grandma's did. My Mom would use only garlic, vinegar, salt and black pepper which is traditional stuffing. On Sundays she would stuff her sirloin roast with the seasoned combination and cook very ...
Read more This oyster rice dressing is a holiday favorite, created by my grandmother Folse, however, after her death, it was passed on to my mother and has always been a holiday tradition. Ingredients3 cups cooked long grain rice 1/2 gallon oysters uncooked and shucked 1 pound ground beef 1 pound ground ...
Read more A dressing made form sweet potatoes. My grandmother use to stuff her turkey with this dressing. Great for your holiday cooking. Ingredients1 pound sweet potatoes - about 3 mediums 1 tsp salt divided 1/4 cup plus 2 tablespoon Shortening or Butter Flavor stick divided 1 cup chopped celery 1/4 cup ...
Read more