Recipe Type:
Pork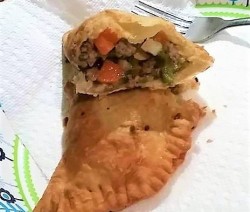 Although Natchitoches, LA is not in Cajun Country, they do have a recipe worth mentioning in "Nouveau Cajun." Natchitoches, Louisiana, is known for their "Festival of Lights", being the location for the filming of Steel Magnolias, and famous meat pies. Their meat pies have been popular there since before the ...
Read more Ingredients8 - 10 pork chops 1 (10 oz) can cream of mushroom soup 1 (10 oz) can cream of onion soup 1 can water 2 cups uncooked rice 1/2 cup gravy from brown chops 1 small onion, chopped Black pepper and cayenne to taste 1/2 cup chopped parsley 1/2 cup ...
Read more Hog maw or shodin is a pig's stomach commonly stuffed with a sausage mixture, simmered until done, then baked until brown. It's usually available only by special order and should be stored in the refrigerator for no more than 2 days. Before using, the stomach should be cleaned of all ...
Read more Pork and turnips are a very popular combination in Cajun culture. In fact, turnips work very well with beef, wild game and chicken. It is so low-carb friendly, you could have it every day. Ingredients3 lbs lean pork short ribs 6 cups peeled and sliced turnips 1/2 large onion, chopped ...
Read more This is a concoction that I came up with one day because I had nothing else better to fix. I am good at throwing stuff together and it tasted better than I expected. I made this recipe for my fellow teachers and they all raved about it and wanted the ...
Read more Jon Miller for Dean Miller A simple and tasty rice dressing in half the time. Ingredients2 lbs lean ground beef 2 cups cooked rice 1 can cream of mushroom soup 1/2 tsp celery seed 1 tsp salt 1 tsp black pepper 1/2 tsp red pepper 1 (4 oz) can sliced ...
Read more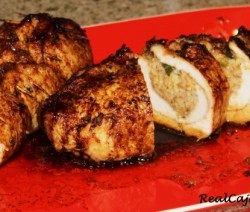 Stuffed boneless pork butterfly loin chops. I came up with this recipe just so I'd have another reason to eat boudin! Ingredients4 boneless pork butterfly loins 1/2 to 1 lb pork boudin for stuffing 1/4 cup green onions (scallions), chopped Salt and pepper to taste1/8 cup cooking oilDirectionsStep 1Preheat oven ...
Read more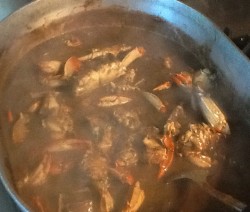 Another Cajun Classic using the basic roux recipe and ground beef from the family boucherie was and is a popular dish used to feed the masses! This same basic stew is also perfect to make for crab instead of meatballs, if you like. Substitute one pound of crab meat and ...
Read more