Recipe Type:
Pork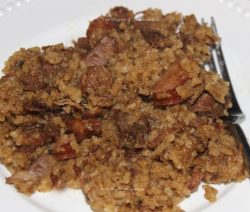 In Memory of Joseph Wayne "Tee Wayne" Abshire Wayne Abshire, Vice President of the Jambalaya Festival in Gonzales, gave us his very own prize winning Pork Backbone Sausage Jambalaya recipe. Ingredients3 cups rice 2.5 lbs pork backbone 1.5 lbs smoked sausage 1 lbs yellow onions 6 cups water 2 tbsp ...
Read more "Being from Louisiana and transplanted in New York, my Cajun roots can't help but be cooking…" Ingredients4 pork chops at least 1 inch thick 1 peach 1 pear 1 tangerine 1 can whole cranberries 1 box of potatoes au gratin fresh garlic 1 package bacon 1 can whole kernel corn ...
Read more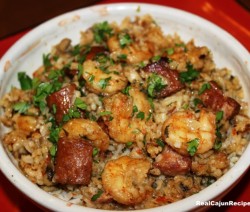 This is a very easy to make shrimp Jambalaya. Great for a Lenten meal – substitute vegetable broth for chicken broth. One to two links of sliced smoked sausage may be added. Cajuns called their rice cookers Hitachi back in the day when everyone had that brand; in making this ...
Read more Note that this recipe is prepared to feed the masses at large family reunions, vendors street fairs, school events, food festivals and political gatherings. Kaplan, LA, in the year 2005, celebrated its first Cajun Food Festival. All types of fun Cajun foods were served. Make plans to attend in April/May. ...
Read more Ingredients5 lbs pork baby back ribs garlic powder 2 tsp garlic powder to taste sesame seeds, roasted 1/4 cup soy sauce black pepper to taste 1/4 cup brown sugar small amount of Worcestershire sauce Tabasco sauce to taste Crystal Lite lemonade (diluted, used for tenderizer)DirectionsStep 1Prepare enough Crystal Lite lemonade ...
Read more This homemade Andouille sausage is the real thing, and it IS spicy! It's great for seasoning beans and gumbo; or use it in anything else that calls for smoked sausage. I use pecan or hickory wood for the smoke, but any fruit wood would do. Ingredients5 pounds pork shoulder 1/2 ...
Read more Ingredients1 eggplant chopped in 1/2 inch squares 1 pound pork sausage 1/2 pound bacon cut in 1 inch pieces 1 large red onion chopped 1 pound ground chuck 3 tbsp minced garlic 2 cups uncooked parboiled rice 2 tbsp Kitchen Bouquet 4 to 4 1/2 cups water salt and pepper ...
Read more This is a different slant on the traditional cornbread dressing/stuffing that I "invented" over 25 years ago. It could easily be a meal in itself and is my yearly contribution to the family Christmas dinner. Ingredients1/2 pound chicken livers optional 1/2 pound lean ground beef 1/2 pound pork steak 1/2 ...
Read more