Recipe Type:
Pork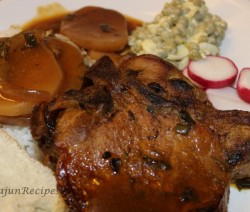 A casserole that's yummy and easy to cook. Makes the best gravy. Ingredients4 - 6 pork chops 2 potatoes 2 tsp black pepper 2 tsp onion powder 2 tsp Cajun spices (Tony Chachere's or Slap Ya Mama) 1 onion, sliced 1 (10 oz) can golden cream of mushroom soup 1/4 ...
Read more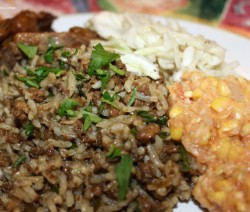 If you have been to Menard's Restaurant in Erath, Louisiana, you would know that he made one of the best rice dressings around. This recipe smells and taste much like his. Although the restaurant is no longer around, at least you can still enjoy that flavorful rice dressing. In getting ...
Read more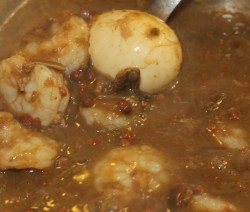 Most people now realize that okra and the word "gombo," which means okra in some parts of Africa, mean the same thing. Not to be confused with the soupy gumbo that Cajuns have become well known for. So this means that you can make a gumbo of gombo. Have you ...
Read more Growing up on the Mississippi Gulf Coast (bout 60 miles from New Orleans), we lived next door to the Breaux family. Mrs. Breaux made this dish quite often. Several years later I visited with Mrs. Breaux and sweet-talked her into giving me her recipe. It's easy to make and always ...
Read more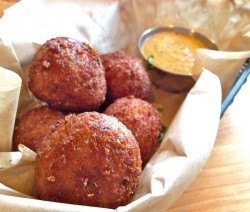 We took a basic classic and made it better! IngredientsBoudin Crushed crackers 2 eggs (optional) 1/4 to 1/2 cup milk (optional) Salt, cayenne, black pepper, to taste Oil for fryingDirectionsStep 1Make your boudin, see our recipe. Or, if using the store purchased variety, remove the meat mixture from the casing. ...
Read more For those who want some hog head cheese (also known as "souse") but can't get to a boucherie or are away from home, you can generally find what you need to make this at most Chinese or Hispanic markets (or look for 99 Ranch market stores). The pig's foot provides ...
Read more Andouille sausage has a rich, smoky flavor. Traditionally, it's made with pork, salt, pepper and garlic and smoked over pecan wood and sugar cane. Ingredients1 tbsp dry thyme 1 tbsp cayenne pepper 4 tbsp salt 1 1/2 tsp filé powder 1/4 cup cracked black pepper 1/2 cup chopped garlic 1/2 ...
Read more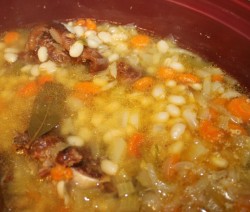 Southerners love their beans. Substitute your favorite dried bean, if you prefer, and if there's leftover ham, feel free to throw it in! Ingredients3/4 lb dried lentil beans (or beans of choice) 2 carrots, sliced in coins 2 onions, chopped 2 stalks of celery, chopped 1 tbsp melted butter 3/4 ...
Read more