Recipe Type:
Pork Swedish meatballs are a popular dish at parties and weddings. These were made by me and served at my wedding. IngredientsMeatballs 4 lbs ground beef 2 lbs ground pork 6 slices of stale bread soaked in milk 3 eggs, beaten Garlic salt to taste Salt and black pepper to taste ...
Read more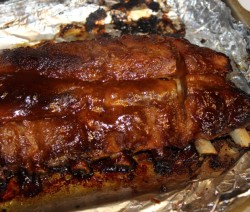 These ribs use a homemade bar-b-que sauce and just fall away from the bone when done. Although the process is a little long, the taste makes it worth it. Ingredients3 (8 oz) cans tomato sauce 3/4 cup brown sugar 1/2 cup apple cider vinegar 1 tsp salt 1 tsp black ...
Read more Ingredients2 onions, chopped 1 bell pepper, chopped 2 lbs lean ground beef 1 lb ground pork 1-2 cans tomato paste 4 (8 oz) cans tomato sauce 4 cups corn Water Salt and pepper to taste Chili powder to taste Cumin to taste Shredded cheeseDirectionsStep 1In a large stockpot, brown the ...
Read more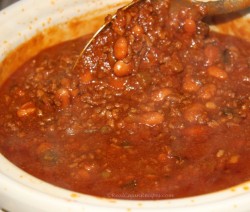 Chili always a favorite! Cooking slow and easy on the stove top or place in the slow cooker after browning the meat and basically forget about it.  It can be made with any combination of meats.such as beef, pork and venison. Ingredients5 tbsp Mexene chili powder 4 tbsp shortening 2 ...
Read more Ingredients3-4 tbsp canola oil 12 whole little okra pods 2 lbs pork chops, cubed 2 (6 oz) cans tomato paste 1 large onion, chopped 1 bell pepper, chopped 2-3 cups water or chicken stock Salt and pepper to tasteDirectionsStep 1Heat two tablespoons of oil in a skillet, fry the okra ...
Read more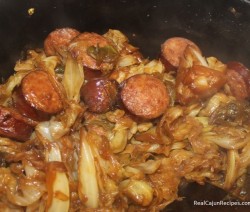 This recipe is fantastic. For a few months, I had it almost nightly. I'd throw the smothered cabbage on top of white rice. MmmM! Ingredients1 tbsp oil 1 tbsp. sugar 1 head cabbage, chopped 1/2 lb pork meat, back bone does well or smoked sausage Salt and pepper to tasteDirectionsStep ...
Read more Ingredients1 lb fresh sausage 2 (15 oz) cans carrots 1 onion, sliced 1/4 cup oilDirectionsStep 1In a heavy pot, add oil and cook the sausage and onion on medium heat, waiting until the sausage browns. Once it is brown, add just enough water to cover the meat. Add the carrots, ...
Read more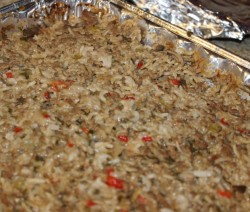 Also known as "Louisiana Dirty Rice", this dish is a true Cajun classic. There are many ways to make this dish, and this is one way from a friend of mine. Ingredients1 lb ground meat, browned 1 cup raw rice 1 (10 oz) can cream of chicken soup 1 can ...
Read more