Recipe Type:
Pork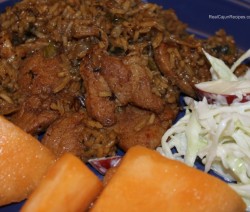 One of the more popular Cajun dishes. Pork Ribs or Pork Chop can be used. Ingredients1 rack country style pork ribs, cut in two inch pieces or pork chops with bone in. 1 quart water or beef broth 2 medium onions, chopped 1 tsp Kitchen bouquet 6 cloves of garlic, ...
Read more You could leave off the shrimp and it would still be great. Ingredients1 lb ground beef 1 lb ground pork 3 lbs shrimp, peeled and deveined 1 large onion and bell pepper, chopped 3 celery stalks, chopped 1 cup each green onions and parsley 2 tsp garlic powder 1 tbsp ...
Read more Working and fixing something for dinner can be a problem. Using the crock pot enables you to cook a hearty dinner without much fuss. Quick soak of the dried beans is recommended by many cooks or an overnight soak of the beans. For the quick soak –  Rinse and sort ...
Read more Another Cajun Classic! So good, you'll slap your momma. Ingredients1 lb cubed pork chops or pork fingers 1/2 cup oil 1 onion, sliced 1 cup parsley 1/2 cup green onion tops 2 cups rice 2 cups hot water 1/2 tsp red pepper 1/2 tsp black pepper 1 tbsp saltDirectionsStep 1Cook ...
Read more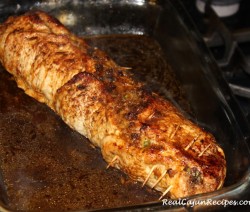 Ingredients1 pork loin 2 Andouille sausages 2 tbsp Tony Chachere's Seasoning 2 cups water 1 cup pureed fig preservesDirectionsStep 1Preheat oven to 350 degrees. Step 2Place pork loin on a cutting board and, using a long knife, slice into the pork loin along the length, creating a pocket. Also make ...
Read more Classic boudin with pork livers added. Ingredients5 lbs pork meat, chopped (pork butt roast is a good choice) 2 lbs pork livers 3 cups rice, steamed 4 onions, chopped 2 bunches green onion tops, chopped 3 tbsp parsley flakes 3 tbsp celery flakes 2 tsp salt or to taste 3 ...
Read more