Recipe Type:
Pork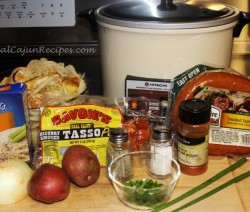 The ease of this recipe impressed my husband. He was surprised we could press the button, leave and go Stine Lumber and not have to worry about anything burning and then come back home and the meal is done. I actually used only half the butter called for in the ...
Read more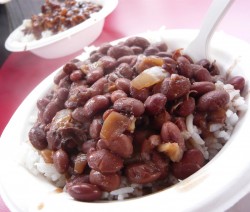 This is a traditional Monday food in New Orleans. Everyone has their own recipe for Red Beans & Rice, most of which probably change a little with each cooking. On a Monday the ladies of the house would put on a pot of red beans to cook all day while ...
Read more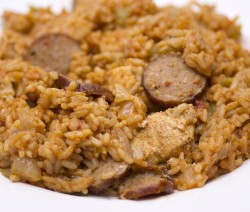 Jambalaya, a Cajun/Creole dish, is perhaps the most versatile main dish that Louisiana has to offer. The most important thing with this dish is to use the right equipment; any heavy bottomed cast iron pot or Dutch oven. Ingredients1 pound Andouille (Cajun) or mild smoked pork sausage, sliced 1/4-inch thick ...
Read more Ingredients5 pork chops 1 can cream of mushroom 1 package Lipton onion soup mix 1 cup water 1 tsp Kitchen BouquetDirectionsStep 1Preheat oven to 350 degrees. Step 2 Mix the cream of mushroom soup, onion soup, water, kitchen bouquet, and lastly add the uncooked pork chops. You can also use ...
Read more Cooking is a labor of love, and certainly the time to create our celebrated regional cuisine takes time and effort. The recipe below will make you the most incredible dirty rice imaginable. Yes, it's time consuming but Voilà ! Qu'un differnece. This dish will feed a small army. Apprécier ce ...
Read more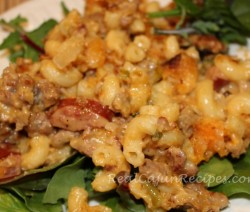 A good twist on plain old Mac and Cheese. Ingredients9 tbsp unsalted butter 1/2 to 1 pound smoked sausage 1 pound pork sausage or regular-spicy Italian sausage 1 cup chopped yellow onions 1/2 cup chopped green pepper 1 tbsp Creole/Cajun Seasoning 4 tsp minced garlic 1/2 tsp anise seeds (optional) ...
Read more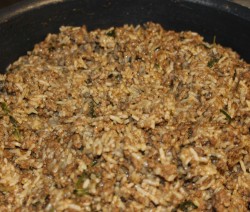 This is one of our favorite rice dressing (also known as dirty rice) recipes. Add this to a meatball stew and talk about good! Ingredients1 pound ground pork 1 pound ground beef 2 cups rice 1 can beef broth 1 small can liver spread, Devil's food or ground liver1 cup ...
Read more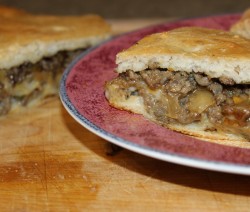 This is a favorite family recipe for any get together or just because. Bridgeford is my preferred brand for this recipe. To get a lovely shiny crust on your bread, brush lightly scrambled egg white on the dough before baking. Ingredients1 loaf of Bridgeford frozen bread 1/ 2 pound regular ...
Read more