Recipe Type:
Pork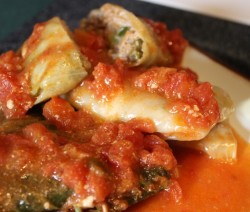 Making these spicy cabbage rolls is a time-honored (and delicious) tradition in our family. Ingredients2 - 3 heads of fresh cabbage 1 medium bag of Mahatma medium or long grain rice 2 pounds ground beef 2 pounds ground pork 2 medium jars Hot Pace Picante Sauce 1 tbsp salt 1 ...
Read more This is my take on New Orleans "Hot Sausage". I came up with this recipe when I lived in Wisconsin a few years ago and wanted a taste of home. Ingredients1 pound ground beef or pork 3 tbsp Paprika 1 1/2 tbsp Tony Chachere's seasoning 1/2 tsp chili powder 2 ...
Read more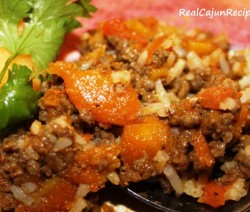 A great dish mixing the salty and sweet! If you have fresh carrots, you can boil two bunches of carrots in one quart salted water and reserve the liquid (in place of canned). Ingredients2 pounds ground beef 3 (15 oz) cans sliced carrots (reserve juice) 1/2 tsp black pepper 1 ...
Read more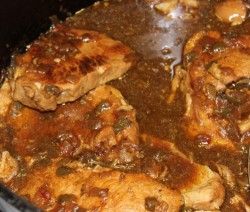 This is a filling and delicious dish, great for the winter. Ingredients4 boneless pork chops (1/2 inch thick) 1 tbsp vegetable oil 1 bunch onions, chopped 1 cup chopped red and green peppers 2 tbsp or 1/2 package Lipton onion soup mix 2 cups water Seasoning to taste (i.e. salt, ...
Read more Ingredients1 (15 oz) can kidney beans 1 (15 oz) can butter or lima beans 1 can pork and beans 1/2 cup brown sugar 1/3 cup catsup Dash of soy sauce or Worcestershire sauce 2 tsp mustard 1/2 cup finely chopped celery 1/4 cup finely chopped onion 1/4 tsp black pepper ...
Read more Jambalaya is possibly the most versatile of the traditional Southern dishes along with gumbo. Ingredients include a combination of rice, vegetables and meat, poultry, or seafood. This version is made with fresh sausage and smoked sausage. Ingredients4 pounds pork fingers, cut up (best if it has lots of meat) 1 ...
Read more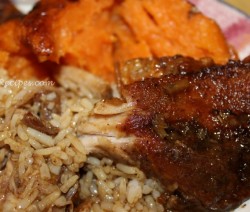 Often times you buy a pork roast and there is a large amount of thick pork skin and you wonder if you can cook it as good as your mother or grandmother did. If ever you have tasted this delight, you know what I mean. If you have not tasted ...
Read more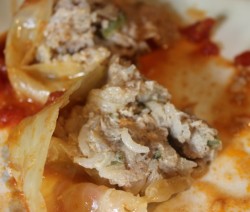 Cabbage is often prepared by boiling, usually as part of soups or stews similar to borscht (beet soup). Boiling tenderizes the leaves, and releases sugars, and develops the characteristic "cabbage" aroma. Ingredients1 1/2 pound ground beef 1 large onion 1/2 medium bell pepper, chopped 2 celery ribs, chopped 1/2 cup ...
Read more