Recipe Type:
Pork MaryAnn Broussard Recipe Collection for Ms Ronnie Mack Broussard Cajuns love their rice, and their modern rice cookers. No matter the brand, Cajuns refer to their rice cooker as a Hitachi! Ingredients1 pound peeled shrimp 1 pint oysters, drained 1- 6oz can crabmeat or 1/2 cup fresh 1 can 4oz ...
Read more Ingredients1 1/2 lb pork loin/backbone (or pork chops with bone in) 3 -5 medium Irish potatoes, peeled and cubed 2 cloves of garlic, minced 1 onion, chopped 1 large bell pepper, chopped 2 stalks celery, chopped 1 quart water Salt, black pepper and red pepper to taste 1 cup flour ...
Read more Dirty Rice gets its name from the rice looking "dirty" after the dish is complete. The chicken giblets give this dish its unique flavor. Ingredients1/4 cup bacon fat 3 tbsp flour 2 medium onions chopped 1 large pod garlic pressed 1 medium bell pepper chopped 1 cup chopped celery 1/2 ...
Read more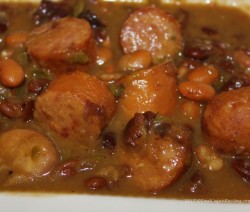 A Cajun Classic! The general consensus is to soak beans 8 to 10 hours before cooking noting however you cook beans without pre-soaking.Also sauteing veggies can be done and will enhance flavor. Ingredients1 pound dried red kidney beans 1 medium yellow onion diced 1 medium bell pepper diced 4 ribs ...
Read more The author writes "I wasn't able to find the recipe but I do remember exactly how it was prepared. My mother directed me on how to prepare it. Grillards is really marinate (marinating pieces of meat). I like lots of onions and bell peppers so I usually add more after ...
Read more Goulash originated in Eastern Europe, but is now commonly made in Southwest Louisiana. Ingredients5 pounds meat mixture (1/2 beef and 1/2 pork) 1 pound grated cheddar cheese 3 cans cream of tomato soup 5 cans mushroom 5 large onions chopped 2 large bell peppers chopped 3 or more cloves of ...
Read more Ribs make such a delicious dish. Short ribs are some of Mawmaw's favorite. Beef short ribs are larger and usually more tender and meatier than their pork counterpart, pork spare ribs. Short ribs are cut from the rib and plate primals and a small corner of the square-cut chuck. A ...
Read more Giblets used in this recipe typically include the heart, gizzard, and liver. Ingredients1/2 cup bacon fat 3 tbsp flour 2 medium onions chopped 1 large garlic pod pressed 1 small bell pepper chopped 1 cup chopped celery 1 pound ground beef 1 pound ground pork 1 pound raw chicken giblets ...
Read more