Recipe Type:
Pork The author writes "I wasn't able to find the recipe but I do remember exactly how it was prepared. My mother directed me on how to prepare it. Grillards is really marinate (marinating pieces of meat). I like lots of onions and bell peppers so I usually add more after ...
Read more Goulash originated in Eastern Europe, but is now commonly made in Southwest Louisiana.
Read more Ribs make such a delicious dish. Short ribs are some of Mawmaw's favorite. Beef short ribs are larger and usually more tender and meatier than their pork counterpart, pork spare ribs. Short ribs are cut from the rib and plate primals and a small corner of the square-cut chuck. A ...
Read more Giblets used in this recipe typically include the heart, gizzard, and liver.
Read more This is a tomato-based pork chop casserole.
Read more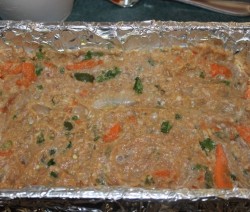 This is a semi-spicy Cajun meatloaf that calls for Everglade Seasonings which is also known as Monkey Dust. It is made of salt, spices, monosodium glutamate, dehydrated garlic and onion, sugar, and papain.
Read more WBRZ of Baton Rouge, LA has a spotlight segment that celebrates a "Chef of the Month". The Chef featured was the chef from Juban's Creole restaurant. This recipe is timely as mirliton are in season at his time and relatively inexpensive.
Read more