Recipe Type:
Chicken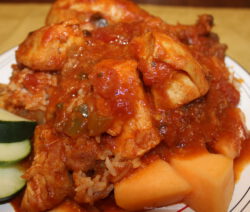 This could be called the "All American Tomato Chicken" as it appeals to everyone. This dish can be served with rice, pasta, noodles and creamed potatoes. -"Pasta is defined as shaped dough made of Durum wheat and boiled in water. … Basically, things like risoni or even fusilli are pasta, but not noodles. Spaghetti and fettuccine are ...
Read more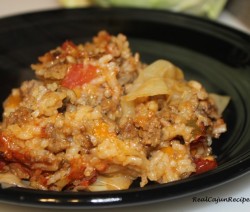 Another great "If you like cabbage" recipe.This casserole is an entire meal in one with rice, meat and vegetables.. It also reheats well if you want to make it a day ahead to bring to a gathering. For a great taste variation, add one pound crawfish or shrimp or two ...
Read more A great chicken dish excellent for a dinner party. Ingredients12 chicken breasts, skinned, halved and boned 1 cup leftover roast 2 cans cream of mushroom soup 12 bacon slices 1 cup sour cream silvered almonds optionalDirectionsStep 1Wrap each breast with a piece of bacon. Cover bottom of flat baking dish ...
Read more An excellent, low-fat dish. Ingredients2 cups rice, raw 2/3 cup bell pepper, chopped 1 cup green onion tops 1/2 cup parsley, minced 1/4 cup corn oil 1 tsp salt 1 1/2 tsp Worcestershire sauce 1/4 tbsp red pepper 2 cups beef or chicken bouillon or 2 cups water and 6 ...
Read more This was a special request recipe find. Ingredients1 tbsp butter 2 tbsp olive oil 1/2 cup chopped onion 2 cloves garlic, minced fine 4 boneless and skinless chicken breast halves 1/4 cup chicken broth 1/4 cup bourbon whiskey Salt and black pepper to tasteDirectionsStep 1In a large skillet, melt the ...
Read more A rich and creamy tasting bourbon chicken recipe. Ingredients4 boneless and skinless chicken breast halves 1 can cream of chicken soup 1 can cream of celery soup 2/3 cup shredded mozzarella cheese 1/2 cup melted butter 1 1/2 cup dry bread crumbs 1/3 cup bourbon whiskey Salt and pepper to ...
Read more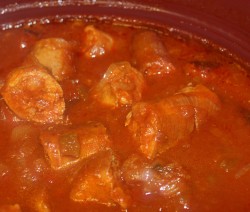 An old time classic. Simple but filling. Ingredients1 package fresh sausage - turkey, chicken or other 2 tbsp vegetable oil 1 cup water 1 onion, chopped 1 bell pepper, chopped (optional) 1/2 cup ketchup or tomato sauceDirectionsStep 1In a heavy duty skillet or cast iron pot, heat the oil. Add ...
Read more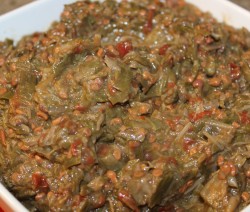 This is a classic way of cooking okra that allows you to use okra (la gombo fevi)  as a side dish or make the ever popular shrimp and okra gumbo. Ingredients3 pounds fresh or frozen okra 3 tbsp canola oil 1 cup chopped onion or 1 large onion 1 cup ...
Read more