Recipe Type:
Chicken The secret to this very famous Opelousas dish is in the seasoning and in the long, slow basting process. Ingredients4 fryer halves Tony Chachere's Creole Seasoning 1 cup oil 1 cup water 1 small can paprika 1 tbsp chili powderDirectionsStep 1Season chicken generously with Tony's or salt & pepper. Rub ...
Read more Flavorful (just as the Cajuns can make it), creamy tomato sauce with chicken over noodles or rice! Really simple to prepare, just requires attention. Ingredients2 lbs boneless chicken breast 1 1/2 cups flour 1/2 cup olive oil 1 onion, chopped fine 1 bell pepper, chopped 2-3 cloves of garlic, minced ...
Read more In Cajun country everyone and everything is related. This dish is a cousin to Cajun Fried Turkey; we figured if deep fried turkey tastes great, why wouldn't the same be true with a chicken? This fairly new dish to Cajun cooking is worth a try if you have a deep ...
Read more This is an easy and quick meal of stuffed bell peppers with great Cajun flavors. Ingredients6 green bell peppers, tops and insides removed 1 yellow or white onion, chopped 1 (16 oz) can tomato sauce 1 box Zatarins Chicken Creole Rice Mix 1 lb ground meat (chuck preferred) 2 tbsp ...
Read more Grandma was right, chicken soup does make you feel better. It's a spirit-lifting, cold-soothing natural medicine, straight from the kitchen. Ingredients4 chicken breasts (with bones) 1 (16 oz) package egg noodles or spaghetti 2 medium Irish potatoes 1 tsp red pepper 1 tsp Zatarain's® Season All 1 tsp garlic powderDirectionsStep ...
Read more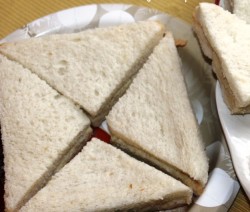 Light tasting, satisfying and a dish to feed the multitudes, this very popular classic sandwich is served at most traditional Cajun weddings. Great for parties, too. Ingredients3 loaves fresh white bread or sandwich bread 1 stalk of celery 1/2 cup sweet pickle relish (or more to taste) 2 ribs celery, ...
Read more An old-fashioned cornbread dressing. Ingredients1 chicken fryer 1 chicken liver (mashed) 1 onion 1 bell pepper 4 shallots 3 stalks celery 2 chicken bouillon cubes 1 package cornbread 3 boiled eggs, chopped Salt and pepper to taste (or use Tony's Creole Seasonings)DirectionsStep 1Remove the skin and fat from the chicken. ...
Read more Giving a party? Try this French loaf sensation. Ingredients1 French Bread Round or Sour Dough Round 1 1/2 cup sour cream 2 cups cheddar cheese 1 (8 oz ) cream cheese size 1/2 cup green onion chopped 1/2 cup ham chopped fine or cooked chicken 1/3 cup green chilies chopped ...
Read more